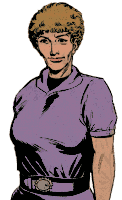 Known Relatives:
Rudolph West
(ex-husband),
Wally West
(son), Ernesto Varni/Rodolpho Valentino (husband), Edgar and Charlotte Rhodes (brother, sister-in-law—maybe)
*
Base of Operations:
New York City
Occupation:
Secretary
First Appearance:
Flash v.1 #133
, December 1962
---
Mary and Rudolph West seemed to be a normal, middle-class family until their teenage son, Wally was struck by lightning and became Kid Flash, super-fast partner to the Flash. While she and her husband didn't always see eye-to-eye, they did their best trying to raise a superhero.
At least Mary did. Her husband had secretly been approached by the Manhunters, a widespread organization out to control the universe, to spy for them. During the Millennium crisis (by which time Wally had succeeded Barry Allen as the Flash), Rudolph tried to have her killed. She survived, but refused to see him again, instead moving in with her son. In fact, she lived with Wally until he moved to Keystone City, while she remained in New York, working as a secretary for Wally's friend Chunk.
After Wally joined the Justice League, Mary began secretly using his JLI transport tube to travel the world. In Europe, she met Ernesto Varni, an Italian secret agent. After getting involved in one case, they began to work together, fell in love, and married in a double ceremony along with Mason Trollbridge and Lenore MacDonald.
Wally and his mother rarely see each other these days, but she was quite happy when Wally and Linda finally got married.
Text by Kelson Vibber. Do not copy without permission.
---
Who's Who Update '88 #4 (November 1988) - Greg LaRocque and Brett Breeding
Who's Who Update '88 #4 (November 1988)
Flash Annual 3 (1989)
Who's Who (loose-leaf edition) #10 under Flash Supporting Cast (June 1991)
Does not include appearances in Teen Titans and New Teen Titans (but will soon).
Flash #133 (December 1962): "Secret of the Handicapped Boys!" John Broome
Flash #135 (March 1963): "Secret of the Three Super-Weapons," John Broome
Flash #138 (August 1963): "Mystery of the Matinee Idol," John Broome
Flash #149 (December 1964): "The Flash's Sensational Risk!" John Broome
Flash #165 (November 1966): "One Bridegroom Too Many!" John Broome
DC Special Series #11: Flash Spectacular 1978: "Beyond the Super-Speed Barrier," Cary Bates
Flash #266 (October 1978): "The Case of the Missing Super-Speed!" Paul Kupperberg
Regular from Flash #9 to #31 and Annuals 2 & 3 (1988–1989)
Manhunter #8–9 (Holiday–January 1989): "Flash Point," John Ostrander and Kim Yale

Flash #49 (April 1991): "Savage Season," William Messner-Loebs
Flash #50 (May 1991): "The Fastest Man—Alive!" William Messner-Loebs
Flash #61 (April 1992): "The Old Wedding Dodge," William Messner-Loebs
Flash #65 (Late June 1992): "Born To Run" Part 4, Mark Waid
Flash #0 (October 1994): "Flashing Back," Mark Waid
Flash 80-Page Giant #1 (August 1998): "The Speed of Life," Mark Waid
Flash #142 (October 1998): "Get Me To The Church On Time," Mark Waid and Brian Augustyn
* Questions of Relativity: According to Who's Who Update '87 #2 (1987), Wally has an aunt and uncle named "Mr. and Mrs. Edgar Rhodes" and a cousin named Inez. Who's Who Update '88 #4 (1988) stated that the Rhodes were Mary West's brother and sister-in-law, implying that her maiden name was Mary Rhodes. The updated entries in Flash Annual #3 and the loose-leaf Who's Who kept this information unaltered. Later, Flash #62 (1992) provided more information about the Wests: Charlotte was the oldest, then Rudolph, then Iris. Charlotte is next mentioned in Flash #0, at a family reunion ten years ago as "Aunt Charlotte the divorcee."
Then The Life Story of Barry Allen (1997) makes the possibly contradictory statement about Iris's family: "The next, Charlotte, played housewife with the neighbor boy Edgar Rhodes from the time she was five until she was thirty-two." Laying aside the question of whether Rudy or Charlotte is older, there's the question about which side the Rhodes were related to. Now it is possible that these could both be true, as it's not unheard of for two brothers to marry two sisters, or in this case, for a brother and sister to marry a sister and brother, but it's uncommon enough you'd think it would have been mentioned.