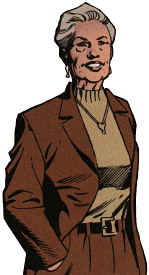 Known Relatives:
Jay Garrick
(husband), Major Arthur Williams (father, presumably deceased), Ezra (uncle, presumably deceased), Abner Williams (uncle, deceased), Basil Williams (cousin, deceased), Ally Gates (cousin)
*
Base of Operations:
Keystone City, Kansas
Occupation:
Retired
Hair:
Grey or white (originally blonde)
Eyes:
Blue
First Appearance:
Flash Comics #1
(January 1940)
---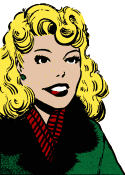 As a student at Midwestern University, Joan Williams was the sometime sweetheart of classmate Jay Garrick. Because of this she was one of the first people Jay told when a lab accident gave him super-speed. They parted roads after graduation, as Joan went to Washington to help her father with his military research and Jay took on an assistant professorship in New York. But when criminals kidnapped her father, she turned to Jay—now fighting crime as the Flash—to save him.
After that, Joan returned to Keystone City. She and Jay resumed their friendship, and she helped him out on numerous cases. They eventually married, shortly before the Justice Society disbanded and the Flash retired. (Note: Flash: The Fastest Man Alive #1 states that Joan and Jay married much earlier, within months of him becoming the Flash.)
Joan took it hard when the Justice Society went into limbo, but she was able to convince the new Flash Wally West, who had become like a grandson to the couple, to move to Keystone. Wally also was able to find out just what had happened to Jay and the others—a fact which somewhat comforted her. Of course when the JSA returned, the two of them were quite happy to pick up where they left off.
Recently Joan was diagnosed with acute leukemia, although the "doctor" turned out to be exaggerating its seriousness. She and Jay relocated for a time to Denver for an experimental treatment. They also took on guardianship of Bart Allen, a.k.a. Impulse. As Joan's health improved, the Garricks and Bart returned to Keystone.
Text by Kelson Vibber. Do not copy without permission.
---
Now: Flash #134 (February 1998) - Paul Ryan and John Nyberg
1940s: Secret Origins #9 (December 1986) - George Tuska and Jerry Acerno
Flash Annual 3 (1989)
Who's Who (loose-leaf edition) #10 under Flash Supporting Cast (June 1991)
...basically anything featuring Flash solo stories in the Golden Age
Flash Comics (1940–1949)
All-Flash Quarterly (1941–1948)
Comic Cavalcade #1–29 (1942–1948)
(1992 JSA?)
(current JSA?)
(Does not include reprinted Golden-Age stories)
Flash #123 (September 1961): "Flash of Two Worlds!" Gardner Fox
Flash #129 (June 1962): "Double Danger on Earth!" Gardner Fox
Flash #137 (June 1963): "Vengeance of the Immortal Villain," Gardner Fox
Flash #151 (March 1965): "Invader from the Dark Dimension!" Gardner Fox
Flash #173 (September 1967): "Doomward Flight of the Flashes!" John Broome
Flash #201 (November 1970): "Finale for a Fiddler!" Robert Kanigher
Flash #205 (April 1971): "Journey Into Danger" (unpublished GA story)
Flash #214 (April 1972): "The Tale of the Three Tokens!" Robert Kanigher (unpublished GA story)
Flash #215 (May 1972): "Death of an Immortal!" Len Wein
Flash #229 (October 1974): "The Rag Doll Runs Wild!" Cary Bates
Flash #236 (September 1975): "Nowhere on the Face of Earth!" Cary Bates
Flash #247 (March 1977): "The Mad, Mad Earth of Abra Kadabra," Cary Bates
DC Special Series #11: Flash Spectacular 1978: "Beyond the Super-Speed Barrier," Cary Bates
Adventure Comics #460 (December 1978): "A Nightmare To Remember!" Cary Bates (illusion)
Flash #305 (January 1982): "Don't Take My Wife—Please!" Cary Bates
Flash #24 (March 1989): "Like a Straw in a Hurricane," William Messner-Loebs
Flash #27 (June 1989): "Running From Myself," William Messner-Loebs
Flash Annual 3 (1989): "Flashing on the Past," William Messner-Loebs
Flash #30 (September 1989): "Dancing in the Dark," William Messner-Loebs
Flash #32 (November 1989): "Welcome to Keystone City," William Messner-Loebs
Flash #38 (May 1990): "Running on the Edge," William Messner-Loebs
Hawkworld Annual 1 (1990): "A Hawkman of Two Worlds?" John Ostrander

Flash #73 (February 1993): "One Perfect Gift," Mark Waid
Flash #74 (March 1993): "Trust" Mark Waid
Flash #122 (February 1997): "Running Away From Home," Mark Waid and Brian Augustyn
Flash #126 (June 1997): "Trial Run," Mark Waid and Brian Augustyn

Flash/Green Lantern: Faster Friends (1997), Ron Marz, Mark Waid, Brian Augustyn
Speed Force #1 (November 1997): "A Stranger With My Face," John Byrne
Flash #134 (February 1998): "Still Life In The Fast Lane," Grant Morrison and Mark Millar
Flash #137 (May 1998): "The Human Race Part 2," Grant Morrison and Mark Millar (cameo)
Flash 80-Page Giant #1 (August 1998): "Dark of the Sun," John Byrne
Flash #152 (September 1999): "New Kid In Town," Mark Waid and Brian Augustyn
Flash #159 (April 2000): "Whirlwind Ceremony," Mark Waid and Brian Augustyn

Flash #161 (June 2000): "Honeymoon in Vegas," Pat McGreal
Flash #165 (October 2000): "Wonderland Chapter 2: The Lightning Rod," Geoff Johns (alternate universe)
Flash #181 (February 2002): "Fallout," Geoff Johns
Flash #183 (April 2002): "Crossfire Prologue: Tricked," Geoff Johns
Impulse #84 (May 2002): "In the Line of Fire," Todd Dezago
Impulse #88–89 (September–October 2002): "Running Out of Time" and "...Godspeed," Todd Dezago
Flash #189 (October 2002): "Messengers," Geoff Johns
Flash #198 (July 2003): "Blitz Part 2: Rush," Geoff Johns
The Flash: The Fastest Man Alive #1–6 (August 2006–January 2007): "Lightning in a Bottle," Danny Bilson & Paul DeMeo
The Flash: The Fastest Man Alive #7–8 (February–March 2007): "Speedquest," Danny Bilson & Paul DeMeo (cameos)
DCU Infinite Holiday Special (February 2007): "Father Christmas," Ian Boothby
Countdown #43 (July 4, 2007): "The Funeral," Paul Dini with Jimmy Palmiotti & Justin Gray
Final Crisis: Rogues' Revenge #2 (October 2008), Geoff Johns
* Joan's Relatives: Her father appears in the Flash's origin and most re-tellings. Joan and Jay visit her uncle Ezra in Comic Cavalcade #3, "The Laws of Pumpkin Center" (see the Eel). Her cousin Ally Gates appears in All-Flash #25, "The Flash Cuts a Rug." Her cousin Basil tries to frame her and two other relatives for murder in All-Flash #30, "The Vanishing Snowman," just before the reading of Abner Williams's will. (Basil himself dies at the end of the story.)