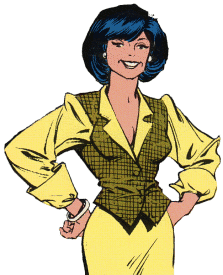 Maiden Name:
Sue Dearbon
Known Relatives:
Ralph
(husband), Jim (uncle)
Occupation:
Socialite, adventurer
Hair:
Black
Eyes:
Blue
First Appearance:
Flash #119
, March 1961
Death:
Killed in her home by Jean Loring (
Identity Crisis #1
, 2004)
---
When Ralph Dibny crashed socialite Sue Dearbon's debutante ball, it was love at first sight for both of them. After a whirlwind courtship, the two were married.
The couple has spent most of their married life traveling around the world, stopping in big cities or small towns to solve the mysteries Ralph invariably sniffs out. Other heroes sometimes refer to them as the "Nick and Nora Charles of the superhero set." From time to time they've paused while Ralph worked with the Justice League, and Sue has even taken a turn as an administrator for the team.
Ralph is in many ways Sue's opposite: he's a flamboyant prankster, while she's calm and pragmatic—but they balance each other perfectly.
Death and Afterlife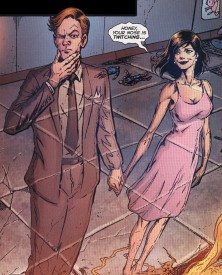 Several months before Infinite Crisis, Sue was tragically killed in the couple's Opal City home by the Atom's ex-wife (Identity Crisis #1, 2004). Her death led Ralph on a harrowing journey... one which reunited the couple in the afterlife and set them on a new journey as ghostly detectives. (52 #52, 2007)
Text by Kelson Vibber. Do not copy without permission.
---
Sue in Life: Who's Who (loose-leaf edition) #7 (February 1991) - Carmine Infantino and Bart Sears
Ralph and Sue: Afterlife Detectives: 52 Week 52 (May 2, 2007) - Keith Giffen (breakdowns) and Darick Robertson (thanks to Glen Cadigan for identifying the artist!)
Flash #119 (March 1961): "The Elongated Man's Undersea Trap!" John Broome
Flash #124 (November 1961): "Space Boomerang Trap!" John Broome
Flash #138 (August 1963): "The Pied Piper's Double Doom," Gardner Fox (cameo)
Flash #210 (November 1971): "A Tasteless Trick," Steve Skeates (Elongated Man Solo)
Flash #212 (February 1972): "When Money Grows on Trees," Len Wein (Elongated Man Solo)
Flash #217 (September 1972): "The Flash Times Five is Fatal!" Len Wein
Flash #220 (March 1973): "The Slowest Man on Earth," Cary Bates
100pg Super Spectacular #22 (November 1973): "Riddle of the Sleepytime Taxi," Gardner Fox (Elongated Man Solo)
Flash #252 (August 1977): "Double Dose of Danger," Cary Bates
Flash #253 (September 1977): "Don't Mess With The Molder!" Cary Bates
Flash #277 (September 1979): "The Self-Destruct Flash," Cary Bates
Flash #296 (April 1981): "The Man who was Cursed to the Bone!" Cary Bates
Flash #323 (July 1983): "Run, Flash—Run For Your Wife!" Cary Bates
Flash #324 (August 1983): "The Slayer and the Slain!" Cary Bates
Flash #325 (September 1983): "Dead Reckoning," Cary Bates
Flash #349 (September 1985): "...And the Truth Shall Set Him Free!" Cary Bates (cameo)
Flash #61 (April 1992): "The Old Wedding Dodge," William Messner-Loebs (cameo)
Flash #87 (February 1994): "Christmas Rush," Mark Waid (cameo)
Detective Comics #327–383 (1964–1969)
Justice League of America #233–257 (1984–1986)
Justice League Europe/Justice League International (1989–1994)
Elongated Man (4-issue mini, 1992)
Formerly Known As the Justice League (6-issue mini, 2003)
I Can't Believe It's Not the Justice League (6-issue arc in JLA: Classified #4–9, 2005)