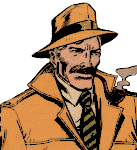 Known Relatives:
Mary
(ex-wife),
Wally
(son),
Iris
(adoptive sister),
Ira
(father), Charlotte (sister)
Past Occupations:
Detective, scam artist, school principal
Base of Operations:
Mobile
First Appearance:
Flash v.1 #116
(1960)
---
Rudolph and Mary West seemed to be a normal, middle-class family until their teenage son, Wally was struck by lightning and became Kid Flash, super-fast partner to the Flash. While he and his wife didn't always see eye-to-eye, they did their best trying to raise a superhero.
At least, that's the story. The truth is, shortly after Wally gained his powers, Rudolph was approached by the Manhunters, an intergalactic conspiracy seeking to take over the universe, to spy for them. He accepted. And when the Millenium approached, he did what he had to: he arranged for his wife's death. She survived, but would never forgive him. Once Wally got past the battle with the Manhunters, his biggest question was: "Why?" Rudolph explained to his son that he just wanted to be on the winning side for a change. In an effort to redeem himself, Rudolph volunteered during the alien invasion to sneak a bomb into Cuba to destroy the Durlans. He was there when it went off, and was presumed dead.
Though it has not yet been explained, Rudolph West survived this encounter. He went on to work at the Celestial Enlightenment Ranch, pretending to be his own ghost to fool his own son into playing his unwitting part in the conspiracy. Since then, he has only met his son at Mary's second wedding (Flash #61) and Wally's wedding (Flash #142). He has also managed to get into significant debt with some rather unpleasant people, which prompted him to form a rather corrupt reform school camp which brought him to the attention of Impulse and Max Mercury (Impulse #49). It seems likely that West will continue running scams on the edge of legality.
Text by Kelson Vibber. Do not copy without permission.
---
Who's Who Update '88 #4 (November 1988) - Greg LaRocque and Brett Breeding
Who's Who Update '88 #4 (November 1988)
Does not include appearances in Teen Titans and New Teen Titans (but will soon).
Flash #116 (November 1960): "The Race to Thunder Hill!" John Broome*
Flash #138 (August 1963): "Mystery of the Matinee Idol," John Broome
Flash #149 (December 1964): "The Flash's Sensational Risk!" John Broome
Flash #165 (November 1966): "One Bridegroom Too Many!" John Broome
DC Special Series #11: Flash Spectacular 1978: "Beyond the Super-Speed Barrier," Cary Bates
Flash #266 (October 1978): "The Case of the Missing Super-Speed!" Paul Kupperberg
Flash #5 (October 1987): "Speed McGee," Mike Baron
Flash #8 (January 1988): "Purple Haze," Mike Baron
Flash Annual 2 (1988): "The Old Detective Dodge," William Messner-Loebs
Flash #21 (1988/1989): "Invaded Lives Part 1," William Messner-Loebs
Manhunter #8 (Holiday 1989): "Flash Point, Part 1," John Ostrander and Kim Yale
Flash #37–39 (April–June 1990): "Channels of Love—and Fear!" "Running on the Edge," "The End of Everything," William Messner-Loebs
Flash #61 (April 1992): "The Old Wedding Dodge," William Messner-Loebs**
Flash #65 (Late June 1992): "Born To Run" Part 4, Mark Waid
Flash #0 (October 1994): "Flashing Back," Mark Waid
Flash 80-Page Giant #1 (August 1998): "The Speed of Life," Mark Waid
Flash #142 (October 1998): "Get Me To The Church On Time," Mark Waid and Brian Augustyn
Impulse #49 (June 1999): "The Old Reform School Dodge," William Messner-Loebs**
* The first time Wally's father appears (Flash v1 #116), he's given the name Bob, which is never mentioned again. The name Rudy didn't appear until Wally got his own series. (Actually, it's possible the name could have come up in an issue of Teen Titans or New Teen Titans, but I'll need time to look through those.)
** Flash #61 and Impulse #49 were William Messner-Loebs' last issues of each series.