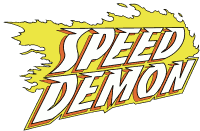 The collision between the DC and Marvel Comics universes has left them combined into one. One result has been the merging of the Demon, the Flash, and Ghost Rider into Speed Demon.
See also: Speed McGee, Speed Demon (Inferior 5)

Back to: Amalgam Comics
---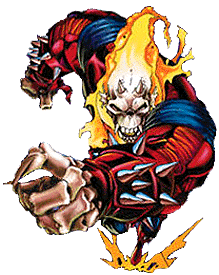 Speed Demon I
Human Component:
Blaze Allen
Demon Component:
Etrigan (formerly Jay Garrick)
Known Relatives (Blaze):
Wally West
(nephew)
Amalgam of:
Flash (Barry Allen)
, Etrigan, Ghost Rider (Johnny Blaze)
*
First Appearance:
Speed Demon #1
, April 1996
---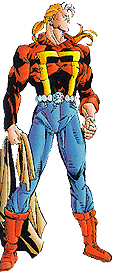 Blaze Allen, motorcycle daredevil and amateur mystic, was contacted by the Night Spectre and asked to serve him in his race to collect souls of power—those of the most pure and the most corrupt. Allen refused. So on his wedding day, the Night Spectre interrupted and captured the soul of his young bride Iris. Approached this time by the wizard Merlin, Allen allowed himself to be bonded to the demon Etrigan in a desperate bid to get Iris back, or at least ensure her peace. He then began to oppose the Night Spectre, not learning until what appeared to be the final confrontation that Etrigan had once been human, and had become a supernatural being when the Night Spectre stole Jay Garrick's soul.
By chanting, "Gone, gone the form of man...rise the demon Etrigan" Blaze is transformed into a super-fast being with the flaming skull of a demon. Speed Demon speaks only in rhyme, but can breathe hell-fire at his opponents.
---

Speed Demon II
Human Component:
Wally West
Demon Component:
unknown—possibly Night Spectre
Known Relatives (Wally):
Blaze Allen
(uncle)
Amalgam of:
Flash (Wally West)
, Etrigan, Ghost Rider (Danny Ketch)
*
First Appearance:
Speed Demon #1
, April 1996
---
One night Wally West walked into his uncle Blaze Allen's trailer at the Quentin Carnival and saw Speed Demon transform into his uncle. Blaze explained how he had become Speed Demon to get Iris back from the Night Spectre, then ran off to fight for the last soul of power. (See Speed Demon I for more details).
As the Speed Demon followed Night Spectre to his own realm, Merlin appeared again, this time to Wally. He explained that it had been Blaze's own recklessness that cost him Iris, and offered Wally a proposition to aid his uncle. As Blaze was about to be killed in Night Spectre's realm, a new Speed Demon appeared to save the day. After the battle was won, the new Demon revealed himself to be Wally. Merlin had told him the Night Spectre had bonded with a human host in a bid to claim Earth, now that Etrigan's side had claimed Hell. Of course, no one named what demon Wally was bonded with...
---
Text by Kelson Vibber. Do not copy without permission.
---
"Demon's Night" - Speed Demon #1 (April 1996), Howard Mackie and James Felder
Amalgam Comics: Speed Demon #1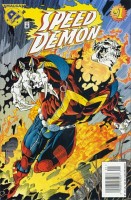 Speed Demon I: Speed Demon #1 (April 1996) - Salvador LaRocca and Al Milgrom
Blaze Allen: Speed Demon #1 (April 1996) - Salvador LaRocca and Al Milgrom
Speed Demon II: Speed Demon #1 (April 1996) - Salvador LaRocca and Al Milgrom
* Marvel published a series of western characters using the name "Ghost Rider" before introducing the now-familiar motorcycle rider with the flaming skull. Depending on how you count them, Johnny Blaze is Ghost Rider I, III, or IV. To simplify matters, I've just used their names. (Thanks to Theodoor Westerhof for clearing up the confusion!)