See Also: Creator Cameos, Superboy-Prime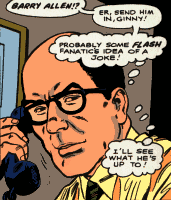 Earth-Prime started out as, essentially, the real world. It allowed DC characters to interact with a world in which they were only fictional characters, and it allowed DC staff to write themselves in to the stories. People on Earth-Prime read (or produced) comic books about the adventures of heroes on Earth-1, just as people on Earth-1 read the comic book adventures of heroes on Earth-2.

Crossovers
The first Earth-Prime story involved the second Flash, Barry Allen, being blasted out of his own dimension. On finding that he was only a comic book character, he proceeded to the DC Comics offices where he convinced his editor, Julius Schwartz, to buy him the parts needed to build a Cosmic Treadmill and return home. (Flash v.1 #179, "The Flash—Fact or Fiction?" 1968)
Another adventure brought writer Cary Bates to Earth-1, where he discovered that the connection between worlds went both ways: Not only was he able to know, from his world, what was happening on Earth-1, but he could influence events on Earth-1 through his own force of will.* (Flash v.1 #228, "The Day I Saved the Flash!" 1974)
Earth-Prime's Bates and fellow writer Elliot S! Maggin later found themselves on Earth-2 and Earth-1, respectively, where Bates became a super-villain. The two writers ended up mixed up with both the Justice League and the Justice Society. (Justice League of America #123–124, "Where on Earth Am I?" and "Avenging Ghosts of the Justice Society!" 1975; reprinted in Crisis on Multiple Earths #4)
End of the World
In 1985, while DC was dismantling the multiverse in Crisis on Infinite Earths, Earth-Prime diverged from the real world significantly. It was revealed that Krypton had existed in Earth-Prime's universe, and a teenager named Clark Kent learned that he actually had the powers of his namesake. Earth-Prime was destroyed in the Crisis, and its Superboy was the sole survivor.
Text by Kelson Vibber. Do not copy without permission.
---
Flash (first series) #179 (May 1968) - Ross Andru and Mike Esposito
* It occurs to me as I write this that Superboy-Prime's ability to alter reality through punching the barrier in limbo actually has some precedent in Cary Bates-Prime's "plotting power." I'm not sure what's scarier: the fact that I noticed the connection, or the possibility that Geoff Johns, Marv Wolfman, or someone else involved with Infinite Crisis may have deliberately used this Superboy because of it.