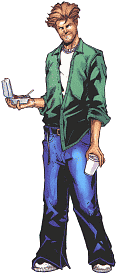 ---
In an alternate future, Wally West, the present-day Flash, will have two children, both with super-speed: Barry and Iris.
Barry's father wanted him to carry on the Flash legacy from the very beginning, when he named him after Barry Allen, the second Flash. Barry, however, has never been interested, either in the Flash legacy or in heroics... or in much of anything, for that matter. Preferring to indulge his random whims at super-speed, he has been a source of constant frustration to both father and sister.
Text by Kelson Vibber. Do not copy without permission.
---
"Quick Fix" - The Kingdom: Kid Flash (February 1999), Mark Waid
Family Tree - Flash Secret Files #1 (1997), Mark Waid
The Kingdom: Kid Flash (February 1999) - Mark Pajarillo and Walden Wong
The Kingdom: Kid Flash (February 1999): "Quick Fix," Mark Waid
Shortly before Angela Margolin first appeared, several people contacted me to say that, according to the Kingdom Come Slipcase Edition (which is a bit out of my own budget), Iris West II's mother would be Angela Margolin. About a month later, she showed up in The Flash #143. However, (a) Angela got involved with Walter, not Wally; (b) she couldn't follow him when he left; and (c) Wally married Linda. To further confuse matters, the Kingdom Come novel refers to this Kid Flash as "Park West," implying—in contradiction to the notes in the slipcase edition—that her mother was actually Linda. The Kingdom: Kid Flash doesn't help matters; Barry and Iris' mother is long gone, the one family photograph is sitting behind a lamp where her face is obscured, and she's referred to only as "Mom." On the other hand, "Wally's" eyes appear to be brown...
It has also been suggested that the Iris West appearing in "Chain Lightning" is not from the same timeline as the one in Kingdom Come and The Kingdom. If so, this would imply that Barry West is actually from an alternate reality. This fits with subsequent events: while Linda gave birth to twins in Flash #225 (2005), their son is named Jai, not Barry.