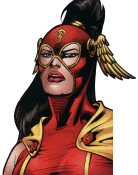 Real Name:
Unknown
Occupation:
Mage
Base of Operations:
Earth-33, Gotharcanum(?)
Group Membership:
League of Shamans
Hair:
Brown
Eyes:
Blue
See Also:
Lady Flash (Christina)
---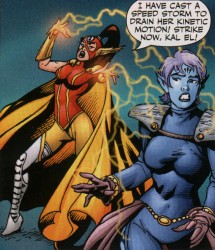 On Earth-33, a world ruled by magicians, those with the greatest power are wizards: Bat Mage, the Shade, Black Bird, Kal-El of the Kryptonian magics. At least the city of Gotharcanum is divided into four quadrants, each managed by a "tower," though all defer to the Oracle. Lady Flash is keeper of the speed force, able to summon lightning and manipulate kinetic energy.
Speed mages have a history of sacrificing themselves in times of great crisis. With the rise of the dark arts among mages, a warning from Ray Palmer (the Atom, who contacted Lady Flash specifically), Dark Angel's impersonation of Oracle, and the arrival of Forerunner and Monarch, Lady Flash has come to believe that the "great disaster" is almost upon them. While she hopes to avoid her predecessors' fate, she is willing to follow in their tradition should it be required.
Text by Kelson Vibber. Do not copy without permission.
---
Battling: Countdown to Adventure #3 (December 2007) - Farizio Fiorentino
Close-up: Countdown to Adventure #4 (January 2008) - Farizio Fiorentino & Adam DeKraker
Countdown to Adventure #3 (December 2007): "Forerunner Part Three: The Realms of the Conjurors," Justin Gray
Countdown to Adventure #4 (January 2008): "Forerunner Part Four: Friends and Foes," Justin Gray
This world first appeared in Countdown to Adventure #3 (2007), but it has been referred to as the world of the Conjurors. There was an Elseworlds mini-series called Conjurors (1999) which portrayed a world in which magic held the place that technology holds in ours. Aside from the existence of magic, however, society was much like our own, or like the main DC Universe. The preeminent superhero team was made up of those heroes who are magic-based in the DCU: The Phantom Stranger, Madame Xanadu, etc.