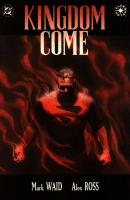 It is an alternate future from the one we know. The world has become a darker, more dangerous place. Ten years ago, Superman retired in disgrace after a new superhero named Magog killed the Joker and was acquitted of murder. Magog was seen as the superhero of the future. The people "chose the man who would kill over the man who wouldn't." With Superman's retirement, his whole generation went into seclusion, acting, if they continued at all, behind the scenes.
The current generation of "heroes" is reckless and violent, unconcerned with issues such as protecting the lives of bystanders. The world's delicate situation finally came to the fore with the destruction of Kansas through Magog's recklessness. In response, Superman came out of retirement, forming a new Justice League to deal with the threat of the newer, violent breed of heroes.
In the current multiverse, this world is known as Earth-22.*
---
The Flash III
According to the Spectre: "In the time of Superman's absence, Keystone City has become a utopia—a protectorate relentlessly patrolled by a gale force once human. No one sees him... no one hears him. He runs a lonely race... but all who live here have felt his presence. He is everywhere at once... a guardian angel who rights even the most harmless of wrongs with lightning speed. He lives between the ticks of a second. He is the Flash."
It appears that Wally is no longer quite human in this future. He is "too fast to be contained by one plane of existence" and has access to other states of being.
The Flash was among those recruited by Superman into the new Justice League.
---
Kid Flash II
Real Name:
Iris West II
Known Relatives:
Wally West (father), Barry (brother)
Group Affiliation:
Mankind Liberation Front (Bruce Wayne)
First Appearance:
Kingdom Come #3
, July 1996
The Flash of this era is the daughter of the previous Flash, Wally West. She was among those recruited by Bruce Wayne to infiltrate Lex Luthor's Mankind Liberation Front.
For a full biography, see the entry on Iris West II (Kingdom).

---
---
"Strange Visitor" - Kingdom Come #1 (1996), Mark Waid
"Up In The Sky" - Kingdom Come #3 (1996), Mark Waid
Cover: Kingdom Come #4 (1996) - Alex Ross
The Flash: Kingdom Come #1 (1996) - Alex Ross
Kid Flash: Kingdom Come #3 (1996) - Alex Ross
*A new multiverse is created in 52 Week 52 (2007), with Earth-22 clearly intended to represent the Kingdom Come reality. The panel mimics Alex Ross's art style and features several characters introduced in the story.