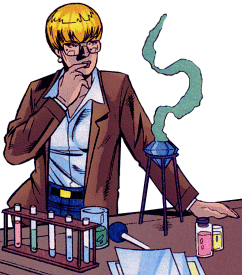 ---
Just as Wally West succeeded Barry Allen as the Flash, Angela Margolin succeeded his job in civilian life: a scientist working for the Central City Police Department. Like Barry, she is very dedicated to her job. Unlike him, she never got around to having a social life until she met the new Flash.
She first met her predecessor's nephew when the Flash Museum was attacked and leveled by Cobalt Blue. She assisted Wally on that case, and since by this time Linda Park, Wally's fiancée, had been erased from history, the two of them began flirting during the case.
Wally, however, did not immediately return from battling Cobalt Blue. Instead, a mysterious darker Flash appeared, who quickly took an interest in Angela—one which she reciprocated. She has assisted him on several cases, and they have become romantically linked—to the point that she accepted an unexpected marriage proposal.
Sadly, Walter had to leave our dimension, and Angela could not go with him. What this means for the future of the West family is unclear.
Text by Kelson Vibber. Do not copy without permission.
---
Flash #146 (March 1999) - Paul Pelletier and Vince Russell
Flash Secret Files #2 (November 1999)
Flash #143 (December 1998): "Like Wildfire," Mark Waid and Brian Augustyn
Flash #145–148 (February–May 1999): "Chain Lightning Parts 1–4" Mark Waid and Brian Augustyn
Flash Annual #12 (1999): "The Apes of Wrath," Brian Augustyn
Flash #152–159 (September 1999–April 2000): The Dark Flash Saga, Mark Waid and Brian Augustyn
* Shortly before Angela Margolin first appeared, several people contacted me to say that, according to the Kingdom Come Slipcase Edition (which is a bit out of my own budget), Iris West II's mother would be Angela Margolin. About a month later, she showed up in The Flash #143. However, (a) Angela got involved with Walter, not Wally; (b) she couldn't follow him when he left; and (c) Wally married Linda. To further confuse matters, the Kingdom Come novel refers to this Kid Flash as "Park West," implying—in contradiction to the notes in the slipcase edition—that her mother was actually Linda.
Additionally, Angela bears an interesting resemblance to Barry Allen's former lab assistant, Patty Spivot. While it's likely that Patty did work her way up through the ranks to become a scientist in her own right, Angela does not appear to have known Barry, so she and Patty do not seem to be the same person.