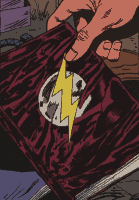 Author: Iris Allen
First Appearance: Flash v.2 #75 (April 1993)
The biography of Barry Allen, written by his widow, Iris. The book has featured in several storylines, first appearing in an edition from the future during The Return of Barry Allen (1993). The time-lost Eobard Thawne had brought a copy with him to visit his idol, before learning he would become the Flash's greatest enemy.
The book next appeared in Race Against Time (1996). Abra Kadabra and Dr. Polaris had found the discarded copy, then proceeded to act on their knowledge of the future... and kidnap Iris to make sure she wrote it!
The book has shown up occasionally since then, but a more frequent theme has been the burden of Iris's own knowledge of the future.

Seeing Print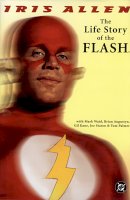 In 1997, DC released The Life Story of the Flash, a hardcover (now in TPB form as well) combining comic-style sequences and prose, with the conceit that it was Iris' book. The cover even credited the book to Iris Allen. Actually written by Mark Waid and Brian Augustyn, it featured back story on both Barry and Iris, retellings of key stories, and cryptic hints about the future.
Among those hints was the opening line, "Barry Henry Allen, one of twins..." foreshadowing the origin of Cobalt Blue by two years.
Prophecies
Because Iris spent years living in the distant future, she knew details about the lives in store for Wally and others. The book's epilogue featured these clues:
I will watch as Wally and Barry share one last great adventure together, a race to infinity that will finally resolve the mysteries that influenced Barry's life and will leave Wally changed forever.
This matches well with Chain Lightning and its aftermath.
I will stand at Wally's side and help him as best I can through an unexpected, tumultuous marriage, through the marvel of his daughter, and through the tragedy of his son.
This part is more problematic. The part about his children fits with the story told in The Kingdom: Kid Flash (1998): Iris West II has become a hero, and Barry West is a good-for-nothing slacker. But there was nothing unexpected about Wally's marrying Linda (except perhaps the convoluted path it took them to get there), which made it sound like he might be marrying someone else... and then Linda disappeared and Angela Margolin showed up. It's not clear at this point how much—if any—of this future will still happen.
I will comfort Impulse when he learns a harsh lesson about life that will cost him a friend but gain him a lifelong companion. I will watch his greatest thrill come in the form of a very special gift from his timelost mother, and I will worry the day his greatest challenge arrives in the form of his own dark twin.
These hints came to fruition not under Waid and Augustyn, but under Impulse scribe Todd Dezago, who began laying the groundwork for Impulse's "dark twin" the moment he started work on the series (1999). He introduced Inertia—who, as it turns out, had also read the book (Impulse #52).
The "harsh lesson about life" came into play in Mercury Falling, in which it was implied that Max would be the lost friend, though eventually it turned out to be a forgotten friend from Bart's virtual reality days, Dox, whose name was later given to Bart's dog.
The special gift from his mother does not seem to have played out, and given the reboot of the 30th century, it's unclear whether she will have a chance.
Text by Kelson Vibber. Do not copy without permission.
---
The Life Story of the Flash (1997), Mark Waid and Brian Augustyn
Battered Copy: Flash (second series) #77 (June 1993) - Greg LaRocque and Roy Richardson
Painted Dust Jacket: The Life Story of the Flash (1997) - Glen Orbik
Flash #75, #77–79 (April–August 1993): "The Return of Barry Allen," Mark Waid
Flash #114–118 (July–October 1996): "Race Against Time," Mark Waid
The Life Story of the Flash (1997), Mark Waid and Brian Augustyn
Impulse #46 (March 1999): "When Barry Met Bart," William Messner-Loebs
Impulse #52 (September 1999): "Tumbling Down," Todd Dezago (quoted)
Impulse #66 (November 2000): Mercury Falling Part 5: "Deathrace," Todd Dezago (quoted)