See Also: History
Around the time of Dead Heat, I put together an Excel spreadsheet of DC speedsters, listing everyone's name, origin, and so on. It quickly got too complicated, and I started to put together a small website in March 1996.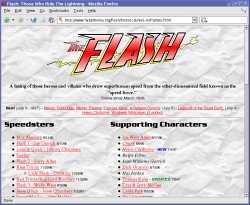 I couldn't find any copies of the original frame-based site design. The closest I could get was the non-frame version. This snapshot is from July 1997, when all I had were the major speedsters and supporting characters, with just three alternate realities—so few they didn't even have their own category.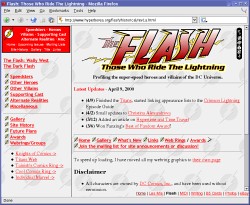 Here's a later revision of the original design (this time with all the pieces). This snapshot is from early 2000, just after I got my own domain name, and just before I did my first major redesign. By this time I'd expanded the site to include villains (after the Scarlet Speedster Web Page went offline), more alternate realities, and articles on theories and events.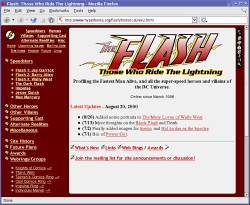 In April 2000 I overhauled the site design completely, abandoning the frame-based layout in favor of one using tables, switching from a predominantly white layout with red highlights to a dark red border with a white article page. A big part of the motivation, actually, was getting rid of the frames and all the problems they cause bookmarks, back-and-forward, people coming in from search engines, etc.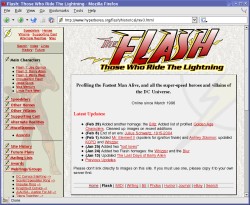 I wasn't quite satisfied with the second design, so I redid everything again in February 2002. This time I wanted to make things more readable, and use web standards as much as possible (you may have noticed my link to the Viewable with Any Browser Campaign) in hopes of cutting down on compatibility issues. This snapshot is from February 2004.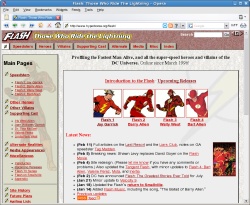 For five years I only made minor changes. The fourth major version went online in February 2007. Hoping to make it easier to navigate the site, and again simplifying the code, I moved the list of categories and the search box from the top of the sidebar to a full tab bar across the top. Adding a smaller site logo above it freed up space on the home page to post prominent links to the four main Flashes. Below the tab bar, things have stayed mostly the same as the third version.

Text by Kelson Vibber. Do not copy without permission.
---