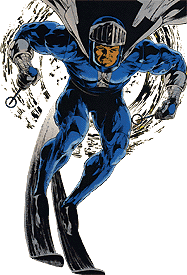 Occupation:
Agent of Death
Real Name:
Sergeant Willie Walker
First Appearance:
The New Gods (first series) #3
(June–July 1971)
Created By:
Jack Kirby
See Also:
Death
,
The Black Flash
,
Fastbak
---
Death has many faces....
—Max Mercury, Flash (second series) #139, July 1998
More a role than an individual, the current form of the Black Racer is that of Sgt. Willie Walker, paralyzed and made mute by wounds received during the Vietnam War. When a murder took place outside his window, and the killer came after him as a possible witness, the Black Racer—drawn to Earth as Darkseid brought Apokolips' war with New Genesis to Earth (see notes below), and drawn to Sgt. Walker in particular—intervened. The Source, an inimaginable power which drives, or perhaps oversees, the universe, then chose Walker to take on the role of the Black Racer. Findng he could move, he put on the Racer's armor and became Death's agent.
Sgt. Walker remains, paralyzed, in his hospital bed, except when Death comes for the New Gods. Then he becomes the Black Racer, able to travel anywhere at the speed of light, bringing the touch of Death.
See also Meditations on Death.
Text by Kelson Vibber. Do not copy without permission.
---
An ancient race, now called the Old Gods, unleashed a power so great it destroyed everything in their dimension. Their homeworld split into two, eventually becoming the twisted world of Apokolips and the paradise of New Genesis. The long-lived beings who arose there came to be known as the New Gods. Darkseid, ruler of Apokolips, has twice led his world in war against New Genesis, and has taken an interest in Earth, believing he will find the secret to Anti-Life—the power which destroyed the Old Gods—on our world.
Who's Who (loose-leaf edition) #3 (October 1990), Black Racer and New Gods entries - Mark Waid
Who's Who in the DC Universe #16 (June 1986), New Gods entry
Who's Who (loose-leaf edition) #3 (October 1990) - Steve Lightle
Who's Who in the DC Universe #3 (May 1985)
Who's Who (loose-leaf edition) #3 (October 1990)
The DC Comics Encyclopedia (2004)
Flash: Our Worlds At War #1 (Summer 2001): "Time on Target," Geoff Johns