See Also: Cities, Central City, Keystone City
This article covers the history of where these cities have been located. For information about the cities themselves, see the individual entries.
---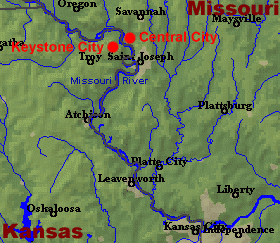 Keystone City was apparently (and I don't have a source for this one) originally supposed to be in Pennsylvania (a.k.a. the Keystone State), which fits with most of the Golden Age Flash stories I've read. Central City was always clearly in the Midwest, specifically Ohio. Flash #228 (August 1974) placed it where Athens, Ohio sits in the real world. In 1985, when the Crisis combined Barry's and Jay's worlds, the two cities were placed together on opposite sides of a river. Central City being more recent, the Midwest won out in the battle for geography.
The first mention I recall of actual states was in Mayfair Games' The Atlas of the DC Universe (1990), which placed Central City in Missouri and Keystone City in Kansas, on opposite sides of the Missouri River (mislabeled as the Mississippi), just upstream from Kansas City. Flash Secret Files #1 (1997) agreed with this placement, as did The Kingdom: Kid Flash (1999).
Then Flash Secret Files #2 (1999) placed Central City in Ohio and hardly mentioned Keystone. This led to interesting speculation during the Dark Flash storyline (#152–159), but was eventually declared a typo—and then JSA #16 (2000) placed Keystone City in Ohio.
Finally, Flash #188 (2002) provided this memorable quote as the Flash stood atop the newly-rebuilt Van Buren Bridge: "Keystone City, Kansas. Central City, Missouri. Forever united—and under my protection."
Text by Kelson Vibber. Do not copy without permission.