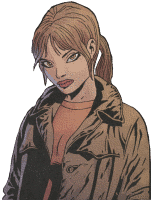 Known Relatives:
Hunter
(ex-husband), Derek and Pearl Fox (parents, deceased)
Base of Operations:
Keystone City, Kansas
Occupation:
Profiler
Former Occupation:
FBI Agent
Hair:
Light brown
Eyes:
Brown
First Appearance:
Flash v.2 #197
(June 2003)
See Also:
KCPD
---
Ashley grew up around law enforcement. Her father was an F.B.I. agent and an instructor at the Burueau's campus at Quantico. She met her future husband, Hunter Zolomon, in college, and they joined the F.B.I. together, both going into her father's field of study: metahuman behavioral sciences. They were married a month before graduation.
One case tore everything apart. Because of an error in judgment on Hunter's part, Ashley's father was killed. Ashley left, and Hunter was thrown out of the F.B.I.
Months later, Ashley learned that her ex-husband had gone insane and become what they had both trained to stop: a super-villain. Wracked with guilt, believing that if she hadn't left him, he would never have started on the path that made him into Zoom, she applied for his former job as profiler for the Keystone City Police. She hopes one day to find a way to cure him.
Text by Kelson Vibber. Do not copy without permission.
---
Flash #203 (December 2003) - Alberto Dose
Flash #197 (June 2003): "Rogue Profile: Zoom," Geoff Johns
Flash #203–206 (December 2003–March 2004): "Ignition parts 3–6," Geoff Johns
Flash #207 (April 2004): "Rush Hour," Geoff Johns
Flash #210–211 (July–August 2004): "Reconnected" and "Animal House," Geoff Johns
Flash #213 (October 2004): "Slow Motion," Geoff Johns (cameo)
Flash #215 (December 2004): "The Secret of Barry Allen, Part Two: Reformed," Geoff Johns
Flash #219 (April 2005): "Truth or Dare, Part 1" Geoff Johns
Gotham Central #29–30 (May–June 2005): "Keystone Kops, Parts 2–3," Greg Rucka
Flash #220–225 (May–October 2005): "Rogue War," Geoff Johns
Final Crisis: Rogues' Revenge #1 (September 2008), Geoff Johns