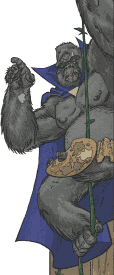 Known Relatives:
Solovar
(father)
Occupation:
Leader, historian
Base of Operations:
Gorilla City
(somewhere in Africa)
First Appearance:
Flash v.2 #194
(March 2003)
---
Nnamdi, the son of Gorilla City's great leader Solovar, was ultimately chosen to succeed his father after the disastrous war on humankind. As the city's lead historian, he brought a different perspective to the role. Under his leadership, the city was transformed from a city of science into a completely self-sufficient melding of nature and technology...a transformation which has made possible an even stricter isolation than before.
Like his father, Nnamdi has formidable psychic powers.
Text by Kelson Vibber. Do not copy without permission.
---
Flash (second series) #194 (March 2003) - Scott Kolins and Doug Hazlewood
Flash #194 (March 2003): "Run Riot Part 3: Dead or Alive," Geoff Johns
Flash #242–243 (September–October 2008): "Fast Money" Parts 5–6, Tom Peyer