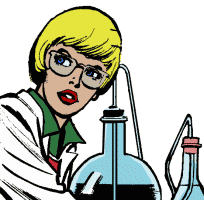 Known Relatives:
David (fiancé, pre-Crisis)
Base of Operations:
Central City, Missouri
Occupation:
Police Scientist (modern) / Lab Assistant (Bronze Age)
Hair:
Blonde
Eyes:
Blue
First Appearance:
DC Special Series #1: Five-Star Super-Hero Spectacular
(1977)
See Also:
Ms. Flash
---
NOTE: In the post-Flash: Rebirth and post-Flashpoint histories, Patty is a colleague of Barry's, not an assistant, and specializes in blood analysis. The current article describes the pre-Crisis on Infinite Earths version of the character, and will be updated when I have the time.
Assistant to Central City's police scientist, Barry Allen. While it is unclear when she started the job (The Life Story of the Flash places her there as early as the night Barry was struck by lightning), she first appeared in print not long before Iris' death. Patty had a fiancÚ named David at the time, but no mention was ever made of a wedding, her name never changed, and she came to Barry and Fiona's wedding alone.
Patty was quite competent, and even ended up running the lab by herself after Barry disappeared (due to his impending trial as the Flash). She could be a bit irresponsible at times, as shown by her driving record and by the scenario Barry imagined in which she gained super-speed and became Ms. Flash. (Certainly it was Barry's imagination, but he's never been shown to be condescending, so one can assume he's a good judge of her character.)

As far as "Ms. Flash" goes, Patty came close to gaining super-speed. She was standing in front of a shelf of chemicals when it was struck by lightning. In the split-second it took her boss to get her out of the way, he imagined a scenario in which she gained super-speed as he had, but the dozens of newer chemicals caused deadly side-effects.
While it is likely Patty could have been promoted to run the lab, the job instead went to one Angela Margolin, and Patty lft Central City for Blue Valley, Nebraska.
Text by Kelson Vibber. Do not copy without permission.
---
Flash #262 (June 1978) - Irv Novick & Frank McLaughlin
DC Special Series #1: Five-Star Super-Hero Spectacular (1977): "How to Prevent a Flash," Cary Bates
Flash #262 (June 1978): "With This Ring... I Thee Master!" Cary Bates
DC Special Series #11: Flash Spectacular 1978: "Beyond the Super-Speed Barrier," Cary Bates
Flash #271–273 (March–May 1979): "The Silent Slayer of Central City!" "The Girl with the Master Mind," and "Harvest of Hate," Cary Bates
Flash #285 (May 1980): "If, At First, You Don't Succeed...," Cary Bates (cameo)
Flash #287 (July 1980): "Dr. Alchemy and Mr. Desmond," Cary Bates
Flash #289 (September 1980): "The Good...the Bad...and the Unexpected!" Cary Bates
Flash #298 (June 1981): "A Deadly Shade of Peril!" Cary Bates
Flash #301 (September 1981): "...And the Beat Goes Off!" Cary Bates
Flash #303 (November 1981): "The Top is Alive and Well in Henry Allen!" Cary Bates (cameo)
Flash #306 (February 1982): "Through a Glass, Permanently!" Dan Mishkin & Gary Cohn
Flash #307 (March 1982): "Prey for the Piper," Cary Bates
Flash #308 (April 1982): "The Good—The Bad—and the Beautiful!" Cary Bates
Flash #314 (October 1982): "Look Upon the Eradicator!" Cary Bates
Flash #315 (November 1982): "The Eradicator Strikes Again!" Cary Bates
Flash #318 (February 1983): "The Killer Who Wiped Central City Clean!" Cary Bates
Flash #323 (July 1983): "Run, Flash—Run For Your Wife!" Cary Bates
Flash #324 (August 1983): "The Slayer and the Slain!" Cary Bates
Flash #329 (January 1984): "What is the Secret of... Simian & Son," Cary Bates
Flash #336 (August 1984): "Murder on the Rocks," Cary Bates
The Life Story of the Flash (1997), Mark Waid and Brian Augustyn
Flash #215 (December 2004): "The Secret of Barry Allen, Part Two: Reformed," Geoff Johns (cameo, flashback)