Base of Operations:
New York City, may have moved to
Central City
Occupation:
Model, aspiring actress
Fiancé:
Chester Runk
Hair:
Varies. Red in first appearance, later blonde, most recently brunette.
Eyes:
Blue.
First Appearance:
Flash v.2 Annual #1
(1987)
---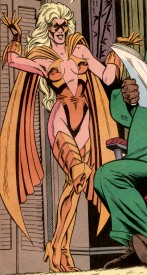 Connie is a model from West Texas who met Wally West during the brief time he was rich. They dated on and off, then started seeing each other after she moved to New York and he lost his fortune. Their relationship was always strained by superhero/normal tensions. She tried several times to get in on the superhero scene, hoping it would bridge the gap between them, but never suceeded. In a way, perhaps she was too normal for him. She eventually realized she was in love with his friend Chester "Chunk" Runk, and broke off the relationship.
When last seen, Connie was engaged to Chester and pursuing an acting career, possibly in Central City.
Text by Kelson Vibber. Do not copy without permission.
---
Blonde - Flash (second series) #30 (September 1989) - Greg LaRocque and Larry Mahlstedt
Redhead - Flash (second series) #19 (December 1988) - Jim Mooney and Larry Mahlstedt
Blue Costume - Flash (second series) #35 (February 1990) - Greg LaRocque and Larry Mahlstedt
Gold Costume - Flash (second series) #60 (March 1992) - Rod Whigham and Frank McLaughlin
Who's Who (loose-leaf edition) #10 under Flash Supporting Cast (June 1991)
Flash Annual 1 (1987): "The Death Touch," Mike Baron
Flash #19 (December 1988): "A Meeting of Rogues," William Messner-Loebs
Flash #30 (September 1989): "Dancing in the Dark," William Messner-Loebs
Flash #35 (February 1990): "Behold the Turtle!" William Messner-Loebs
Flash #36 (March 1990): "Running on the Edge," William Messner-Loebs
Flash #42 (September 1990): "Mechanical Difficulty," William Messner-Loebs
Flash #49 (April 1991): "Savage Season," William Messner-Loebs
Flash #55 (October 1991): "To Race With Gods," William Messner-Loebs
Flash #56 (November 1991): "The Way of a Will," William Messner-Loebs
Flash #58 (January 1992): "The Barry Allen Foundation," William Messner-Loebs
Flash #59 (February 1992): "Last Resorts," William Messner-Loebs
Flash #60 (March 1992): "Last Resorts, Part 2," William Messner-Loebs
Flash #61 (April 1992): "The Old Wedding Dodge," William Messner-Loebs
Flash #177 (October 2001): "Event Horizon," Geoff Johns