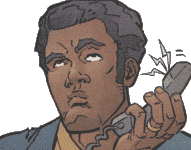 Known Relatives:
Unnamed wife
Base of Operations:
Keystone City, Kansas
Occupation:
Police Detective
Hair:
Black
Eyes:
Brown
First Appearance:
Flash v.2 #171
(April 2001)
See Also:
KCPD
---
Los Angeles detective Jared Morillo moved to Keystone City on his wife's suggestion; she had grown up in the Midwest and missed the region. He had a rough start. First he alienated most of his coworkers with his smug, self-important attitude (it didn't help when he was right). Less than two weeks after he started, his precinct faced dozens of murders in one night. Morillo took charge of the investigation, enlisting the aid of police from neighboring Central City as well as the Flash—who he realized was the connection between the seemingly-random murders: all the victims had, at one time or another, had their lives saved by the Flash. Beat cop Fred Chyre, whose partner had been one of the victims, insisted on coming along as he tracked down the Cicada cult. This led to two significant changes in Morillo's life.
The first was that the police captain assigned Morillo and Chyre together as partners, creating the new Department of Metahuman Hostility. Not only had they done well on the Cicada case, but no one wanted to work with either of them, and each was told he was being assigned to straighten the other out. Despite their initial dislike, they've begun to respect each other.
The second resulted from Cicada slashing Morillo with a dagger when the cop tried to apprehend him. Cicada had been using the dagger to transfer energy from victims to himself, and Morillo found that his wounds would heal almost instantly. So far, this healing power seems without limit, although greater injuries do take longer to heal. Disturbingly, on a tour of the prison Iron Heights, he found himself somehow connected to Cicada as he passed the cell in which the cult leader was held.
Morillo is very attached to his wife, who has (so far) never been named or actually drawn (though we have heard her speak). He is constantly calling her on the phone, or worrying that she'll be upset that he's been out all night on police work, etc.
Detective Morillo was briefly replaced by Plunder, his counterpart from a mirror dimension. Plunder shot him in the head, then buried him in a shallow grave while his healing power slowly repaired the damage.
Text by Kelson Vibber. Do not copy without permission.
---
Flash (second series) #172 (May 2001) - Scott Kolins and Doug Hazlewood
Flash Secret Files #3 (November 2001)
Regular from #171–230 (2001–2006)
Gotham Central #29–31 (May–July 2005): "Keystone Kops, Parts 2–4," Greg Rucka
The Flash: The Fastest Man Alive #2 (September 2006): "Lightning in a Bottle Part 2: Origins," Danny Bilson & Paul DeMeo
The Flash: The Fastest Man Alive #3 (October 2006): "Lightning in a Bottle Part 3: Night of the Griffin," Danny Bilson & Paul DeMeo
The Flash: The Fastest Man Alive #5 (December 2006): "Lightning in a Bottle Part 5: Missing in Action," Danny Bilson & Paul DeMeo
Final Crisis: Rogues' Revenge #1 (September 2008), Geoff Johns