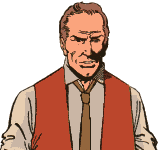 Alter Ego:
The Clipper (briefly)
Known Relatives:
Donnie
(son, called "Denny" in #31), Susie (yuppie daughter), unnamed yuppie son-in-law, Leonora MacDonald (wife, originally called Lenora)
Base of Operations:
Keystone City, Kansas
Past Occupations:
Truck driver, carpenter, handyman...
First Appearance:
Flash v.2 #15
(August, 1988)
See Also:
The Clipper
---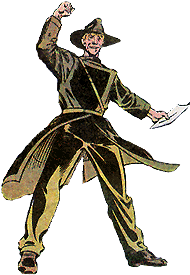 In his youth, Mason Trollbridge was the kid sidekick of a hard-edged depression-era crimefighter known as the Clipper. Mason first met Wally West when the two were neighbors in a New York tenement. He assisted Wally in a kidnapping case, and they became friends. For a brief time while Wally was powerless, Mason tried—unsuccessfully—to bring back the Clipper. Mason later moved to Keystone City with Wally in order to find his estranged son, Donnie.
In the aftermath of the struggle over the Icicle's will, Mason met Leonora MacDonald. The Icicle's sister-in-law, Leonora also turned out to be an old acquaintance of Mason's. Shortly afterward, she called on Mason and Wally to protect her from a mercenary known as The Last Resort. Mason was shocked to discover, however, that the Last Resort was in fact his son Donnie! They discovered that Donnie had been hired to find documents relating to Leonora's late father and an employee blacklist, found the documents, and reunited father and son. Not long after, Mason and Leonora were married in a double ceremony alongside Mary West and Ernesto Varni.
Text by Kelson Vibber. Do not copy without permission.
---
Mason - Flash (second series) #38 (May 1990) - Greg LaRocque and Larry Mahlstedt
Clipper - Flash (second series) #23 (February 1989) - Gordon Purcell and Larry Mahlstedt
Flash Annual 3 (1989)
Who's Who (loose-leaf edition) #10 under Flash Supporting Cast (June 1991)
Regular from Flash #15–61