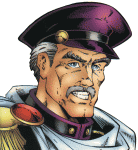 Occupation:
Curator of the
Flash Museum
Past Occupation:
Actor
Base of Operations:
Central City, Missouri
Hair:
White
Eyes:
Blue
First Appearance:
Flash (first series) #138 (August 1963)
---
Once the greatest and most famous theatrical actor in the country, Dexter Myles had fallen on hard times when he came to Blue Valley seeking a job at its new playhouse. Theater had moved on, and his style of acting was no longer in demand. While there, he collapsed in front of a parade float ridden by Kid Flash, who whisked him to safety. The young speedster took an interest in the old actor, and learned that the men who had hired him were actually crooks in need of a distraction. With the publicity, the real festival committee hired Dexter on for the summer.
The following summer the actor found himself again out of work and homeless, drifting this time to Central City, where a catnap at the Flash Museum led to a chance encounter with Barry Allen. Dexter had overheard three actors discussing a play, so Barry "contacted" the Flash to help him reach the theater on time. The actors had been attacked; the same three convicts they had been impersonating had stolen their costumes. The Flash tailed them to the airport and captured them, then came up with a solution for Dexter's problem: he recommended that the museum hire him as a guide.
The Flash Museum turned out to be Dexter's second great calling. His renditions of the stories behind each exhibit brought so many people in that he quickly became the guide at the museum, and later its curator. To this day it is difficult to imagine the museum without him—or indeed, him without the museum.
Over the years, Dexter became a trusted friend of the Flash and of Barry and Iris Allen. He never forgets a line from the Bard or pretty face, and has been known to drop as many quotes as possible into his conversation.
Text by Kelson Vibber. Do not copy without permission.
---
"Mystery of the Matinee Idol" - Flash #138 (August 1963), John Broome
"Gangsters' Masquerade!" - Flash #154 (August 1965), John Broome
Flash Secret Files #1 (November 1997) - Todd Nauck and Larry Stucker
Flash #138 (August 1963): "Mystery of the Matinee Idol," John Broome
Flash #154 (August 1965): "Gangsters' Masquerade!" John Broome
Flash #157 (December 1965): "The Day Flash Aged 100 Years!" Gardner Fox
Flash #165 (November 1966): "One Bridegroom Too Many!" John Broome
Flash #171 (June 1967): "Here Lies the Flash—Dead and Unburied," Gardner Fox
Flash #190 (August 1969): "Ten Years to Live—One Second to Die!" John Broome
Flash #197 (May 1970): "Four Star Super-Hero," Mike Friedrich
Flash #199 (August 1970): "Flash?—Death Calling!" Robert Kanigher
Flash #221 (May 1973): "Time-Schedule For Disaster!" J. David Warner & Cary Bates
Flash #234 (June 1975): "I'm Going to Kill You, Flash—But Not Till I'm Good and Ready!" Cary Bates
Flash #241 (May 1976): "Steal, Flash, Steal!" Cary Bates
Flash #244 (September 1976): "The Last Day of June is the Last Day of Central City!" Cary Bates
Flash #264 (August 1978): "The Golden Glider's Final Fling!" Cary Bates
DC Special Series #11: Flash Spectacular 1978: "Beyond the Super-Speed Barrier," Cary Bates
Flash #277 (September 1979): "The Self-Destruct Flash," Cary Bates
Flash #300 (August 1981): "1981—A Flash Odyssey," Cary Bates
Flash #322–325 (June–September 1983): "Burning a Speedster at Both Ends!" "Run, Flash—Run For Your Wife!" "The Slayer and the Slain!" and "Dead Reckoning," Cary Bates
Flash #333–335 (May–July 1984): "Down With The Flash," "Flash Freak-Out!" and "How To Trash a Flash!" Cary Bates
Flash #337 (September 1984): "Beware the Speed-Demons!" Cary Bates
Flash #349–350 (September–October 1985): "...And the Truth Shall Set Him Free!" and "Flash Flees," Cary Bates
Green Lantern #30 (Early October 1992): "The Troule With Gorillas," Gerard Jones (cameo)
Green Lantern #40 (Late May 1993): "A Flash of Evil" (Return of Barry Allen tie-in), Gerard Jones
Flash Annual 8 (1995): "Growing Up Fast," Mark Waid
The Life Story of the Flash (1997): "Life in the Fast Lane," Mark Waid
Flash Secret Files #1 (November 1997): "A Guided Tour of the Flash Museum"
Flash #208 (May 2004): "The Red Carpet," Geoff Johns
Flash #211 (August 2004): "Animal House," Geoff Johns
Flash #228 (January 2006): "Finish Line, Part 2: The Summoner," Joey Cavalieri
The Flash: The Fastest Man Alive #7 (February 2007): "Speedquest Chapter 1: Angel City," Danny Bilson & Paul DeMeo (cameo)