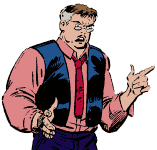 Known Relatives:
Peter (brother, deceased)
*
,
Tony
(nephew)
Base of Operations:
Central City, Missouri
Occupation:
Tailor
First Appearance:
Flash v.1 #141
(December 1963)
---
Central City tailor Paul Gambi made a name for himself in the criminal underground by making costumes for the city's Rogues. In fact, Gambi not only tailored but designed many of their costumes. At one point he was jailed as an accessory—he had helped the Top try to capture the Flash—and his apprentice J.M. Leach** took over his client list. Business picked up again once he was released, though, and Gambi has occasionally used his connection to the Rogues for publicity.
At some point in his career, Gambi set out "to make the ultimate super-villain costume." The first man to use it was executed, but the Suit took on a life of its own.
Gambi also had a hand in raising his nephew, Tony, whose mother died when he was young and whose father was in jail. Paul Gambi and his nephew saw the Rogues frequently enough they were almost family, and when they needed someone to carry out a vendetta against the new Flash, Tony volunteered, becoming the Replicant.
The Rogues have continued to place their trust—and their business—in Gambi and his shop.
Text by Kelson Vibber. Do not copy without permission.
---
Secret Origins #41 (June 1989) - Paris Cullins & Tom Dzon
Flash #141 (December 1963): "The Mystery of Flash's Third Identity," John Broome
Flash #222 (August 1973): "The Heart That Attacked the World!" Cary Bates
Flash #239 (February 1976): "The Tailor-Made Crimes of Central City!" Cary Bates
Flash #350 (October 1985): "Flash Flees," Cary Bates
Secret Origins #41 (June 1989): "A Rogue By Any Other Name," Dan Mishkin and Gary Cohn
The Life Story of the Flash (1997), Mark Waid and Brian Augustyn
Flash Secret Files #2 (November 1999): "Twenty-First Century Rogue," Mark Waid and Brian Augustyn
Flash Secret Files #2 (November 1999): "Gambi's Fashion Catalog," Tom Peyer
Flash #217 (February 2005): "Post-Crisis," Geoff Johns
Final Crisis: Rogues' Revenge #2 (October 2008), Geoff Johns
Paul Gambi was named after Paul Gambaccini, a comic fan and frequent letter-writer to The Flash and other DC Comics. Gambaccini went on to become a radio disc jockey in the UK. (Thanks to Superdave for the info.)
*Peter Gambi was also a tailor—and a former hit man—who designed Black Lightning's costume to make up for his past misdeeds. He died early in that hero's career. It is not clear whether Tony is Peter's son or the child of another Gambi sibling.
**Paul Gambi's apprentice J.M. Leach appears in Flash (first series) #155 & 174 (1965–1967)