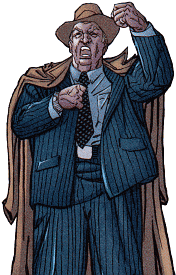 Alter Ego:
Goldface
Known Relatives:
Amunet Black
(ex-wife)
Occupation:
Union Commissioner
Former Occupations:
Criminal, Syndicate Boss
Group Affiliation:
Union 242
Base of Operations:
Keystone City, Kansas
Former Bases of Operations:
Coast City, California; unnamed Pacific island
First Appearance:
Green Lantern (second series) #28
(April 1964)
---
Criminal scientist Keith Kenyon developed an invulnerability serum based on gold. While looting sunken treasure to obtain gold with the properties he needed, Kenyon came into conflict with Green Lantern. He hastily drank the untested serum, and gained superhuman strength as well. He held his own against Green Lantern, until the hero doused him with a chemical that dissolved gold and captured him.
After Kenyon escaped from prison, he began refining his elixir and building weapons and armor—all gold-based, of course—and took on the identity of Goldface. Green Lantern again stopped him. However, Kenyon learned from this encounter that simply being a super-villain was not enough. When he next escaped, he began taking over criminal organizations all over the west coast.
Once his power base was solid, he headed east, moving in on Central City. Kenyon was ruthless in his takeover attempts, killing those who would not cooperate. He planned to eliminate the Flash by learning his identity. When Heat Wave fled instead of talking, Goldface tried extortion. He announced on city-wide television that he would kill one police officer a day until the Flash ceased operating—and murdered the first one in broad daylight, just to make his point*. The Flash finally managed to sneak into Goldface's local headquarters, only to fight a three-way battle with Kenyon and the killer vigilante Eradicator. The Flash saved Goldface's life, and the Eradicator escaped to fight another day. (Flash #315–317, 1982–1983)
After a failed escape attempt, Kenyon decided it wasn't worth it anymore. He served his time, was released, and took on more (apparently) legal pursuits. He now heads Union 242, the largest union in Keystone. The name he took on as a criminal has also become literal, as he has become living gold, using makeup to imitate normal skin tones whenever he appears in public.
Text by Kelson Vibber. Do not copy without permission.
---
Union Commissioner: Flash (second series) #170 (March 2001) - Scott Kolins and Doug Hazlewood
Goldface: Who's Who (first series) #9 (November 1985) - Gil Kane
Who's Who in the DC Universe #9 (November 1985)
Flash Secret Files #3 (November 2001)
The DC Comics Encyclopedia as Goldface (2004)
Flash #315 (November 1982): "The Eradicator Strikes Again!" Cary Bates
Flash #316 (December 1982): "Speed Kills!" Cary Bates
Flash #317 (January 1983): "A Fast Way to Die!" Cary Bates
Flash #343 (March 1985): "Revenge and Revelations," Cary Bates
Flash #170–173 (March–June 2001): "Blood Will Run," Geoff Johns
Flash: Our Worlds At War #1 (Summer 2001): "Time on Target," Geoff Johns
Flash Secret Files #3 (November 2001): "Rogues," Geoff Johns
Flash #178 (November 2001): "Caged," Geoff Johns
Flash #183–188 (April–September 2002): "Crossfire," Geoff Johns
Flash #189 (October 2002): "Messengers," Geoff Johns
Flash #195 (April 2003): "Off Balance," Geoff Johns (cameo)
* Although Barry acted immediately by hanging up his costume until he had a plan to stop Goldface, this threat had repercussions on Barry's future. When the Flash went on trial for killing Professor Zoom, his lawyer disliked him intensely (although she set that aside professionally in order to mount his defense). Flash couldn't figure out why, until he found out that her father was the officer Goldface had killed (Flash #343, 1985).