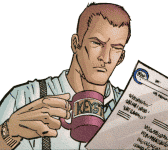 Known Relatives:
Ashley
(ex-wife), unnamed parents (deceased)
Base of Operations:
Keystone City, Kansas
Occupation:
Profiler
Former Occupation:
FBI Agent
Hair:
Brown
Eyes:
Brown
First Appearance:
Flash Secret Files #3
(November 2001)
See Also:
KCPD
,
Zoom II
---
To say that Hunter Zolomon grew up in a disfunctional family would be putting it mildly. His parents rarely spoke, to each other or to him, and on the day he was to leave for college he came home to find the police laying siege to his house. His father was a serial killer, and when his mother told the police, she became his last victim. The older Zolomon refused to give up, and was killed by the police.
Hunter became obsessed with understanding the criminal mind, studying psychology and criminology in college, then joining the F.B.I. along with his girlfriend Ashley, whose father was an instructor at the F.B.I.'s campus at Quantico.
One case tore everything apart. Because of an error in judgment on Hunter's part, Ashley's father was killed. Ashley left him, he was thrown out of the F.B.I., and he couldn't even run anymore because of his injured knee. He collected the pieces of his life and got a job as a profiler with the Keystone City, working with the police in their Department of Metahuman Hostilities.
His initial goal was to determine just why so many super-villains kept returning to Keystone despite the presence of the Flash. He found his answer in the discovery of the Network, a huge black market that had been operating secretly for more than a decade.
His work put him in constant contact with the Flash, and Hunter became friends with the hero and with detectives Chyre and Morillo. His insight was critical in solving a number of cases, but he always resented being stuck behind a desk.
Just when his life seemed to be on an upswing, Hunter was nearly killed by Grodd (Flash #193, 2002), leaving him paralyzed from the waist down. His feelings of helplessness dropped him into a deep depression, one which drove him to ask the Flash to travel back in time to prevent the accident that cost him his family and his career. The Flash, who had seen first-hand the potential for disaster in changing the past, refused.
Hunter, driven by desperation, took the F.B.I.'s theories on the workings of the Cosmic Treadmill and attempted to hotwire the device so that he could use it himself. Instead it exploded, taking the Flash Museum with it, and transforming Zolomon into Zoom.
Continued in the Zoom II Profile.
Text by Kelson Vibber. Do not copy without permission.
---
Flash Secret Files #3 (November 2001) - Scott Kolins & José Marzan, Jr.
Flash #197 (June 2003): "Rogue Profile: Zoom," Geoff Johns
The DC Comics Encyclopedia as Zoom (2004)
Flash Secret Files #3 (November 2001): "Rogues," Geoff Johns
DC First: Flash/Superman (July 2002): "Speeding Bullets," Geoff Johns
Regular from #181–197 (2002–2003)
See Zoom II for further appearances.