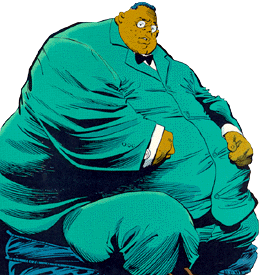 Real Name:
Chester P. Runk
Known Relatives:
Sophia (aunt), Cyrus (uncle), Cecil and Mary (cousins), Warren, Niles, Kevin, Tad, Tracy, and Peter (half-cousins)
Fiancée:
Connie Noleski
Occupation:
Removal Specialist
Base of Operations:
Southampton, New York
First Appearance:
Flash v.2 #9
---
At the age of 24, brilliant physicist Chester Runk developed a matter-transmitting machine that imploded during its first test, lodging itself in his body and making him a "human black hole," capable of absorbing matter and sending it... somewhere. He found that he had to consume vast amounts of super-dense materials to avoid becoming trapped in an alternate, barren dimension. Over several years, he brought dozens of bystanders there and left them stranded. He came into contact with the third Flash while absorbing gems in the New York area. He brought Wally to the alternate dimension, where he convinced Chunk that he would be hailed for his scientific discovery if he would just return all his victims. He agreed to do so, and further investigation declared him free.
Chunk now works as a Removal Specialist. "Everyone has something they'd like to disappear." He is friends with Wally, and for a while employed Wally's mother as his secretary. He lives in Wally's former mansion (with a zillion "relatives" who appeared out of nowhere and invited themselves in), and is engaged to Wally's ex-girlfriend Connie Noleski.
Text by Kelson Vibber. Do not copy without permission.
---
Who's Who (loose-leaf) #3 (October 1990) - Greg LaRocque and José Marzan, Jr.
Who's Who Update '88 #1 (August 1988)
Flash Annual 3 (1989)
Who's Who (loose-leaf edition) #3 (October 1990)
Flash #9–11 (February–April 1988): "The Chunk," Mike Baron
Flash #15 (August 1988): "Hitting Bottom," William Messner-Loebs
Flash #18 (November 1988): "The Adventures of Speed McGee Part 3," William Messner-Loebs
Flash Annual 2 (1988): "The Edges Of Life," William Messner-Loebs (solo story)
Flash #19 (December 1988): "A Meeting of Rogues," William Messner-Loebs
Flash #21–22 (January 1989): "Invaded Lives," William Messner-Loebs
Flash #23 (February 1989): "The Clipper Returns," William Messner-Loebs
Flash #24–25,27 (March–June 1989): The Porcupine Man Saga, William Messner-Loebs
Flash Annual 3 (1989): "A Chunk at the JLI," William Messner-Loebs
Flash #35 (February 1990): "Behold the Turtle!" William Messner-Loebs (cameo)
Flash #36 (March 1990): "Running on the Edge," William Messner-Loebs (cameo)
Flash #48–49 (March–April 1991): "Persistence of Vision" and "Savage Season," William Messner-Loebs
Flash Annual 4 (1991): "Family Business" (Armageddon 2001), Mark Waid (cameo)
Flash #55 (October 1991): "To Race With Gods," William Messner-Loebs
Flash #58 (January 1992): "The Barry Allen Foundation," William Messner-Loebs
Flash #59–60 (February–March 1992): "Last Resorts," William Messner-Loebs
Flash #61 (April 1992): "The Old Wedding Dodge," William Messner-Loebs
Flash Annual 5 (1992): "Run-In" (Eclipso: The Darkness Within), Mark Waid and Craig Boldman

Flash #87 (February 1994): "Christmas Rush," Mark Waid (cameo)
Impulse #38 (June 1998): "Rising Waters," William Messner-Loebs
Flash #159 (April 2000): "Whirlwind Ceremony," Mark Waid and Brian Augustyn (cameo)
Flash #177 (October 2001): "Event Horizon," Geoff Johns