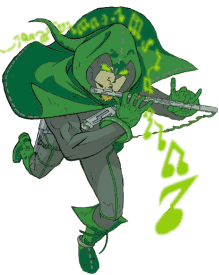 Real Name:
Hartley Rathaway
Known Relatives:
Osgood and Rachel Rathaway (parents, deceased), Jerrie Rathaway (sister)
Occupation:
Social Activist
Past Group Affiliations:
The Rogues
,
Trickster's FBI Project
Base of Operations:
Central and Keystone Cities
Hair:
Reddish Blonde
Eyes:
Blue
First Appearance:
Flash v.1 #106
(May 1959)
---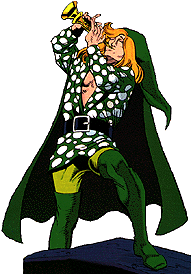 Born deaf, Hartley Rathaway was eventually cured of his disability by research funded by his multimillionaire father. He became obsessed with sound, but seemed to have ambition for nothing else in life, spoiled by his parents' lavish lifestyle. He started experimenting with the science of sonics in his early teens, and eventually perfected hypnotism through music. This life was too easy for Hartley, so he turned to crime to relieve his boredom. As the Pied Piper, he had many clashes with the second Flash.
Reformation
After Barry Allen's death, the Piper abandoned crime in favor of socialism and a new role as a provider for the poor. He didn't know it at the time, but the Top had messed with his mind, encouraging this new line of work. He once joked that he was the only super-villain he could think of who was gay, making it ironic that he's one of the few rogues who have "gone straight" and stayed that way. In fact, he is a good friend of Wally West, the third Flash, and his wife Linda, often helping Wally on cases with his scientific skills.

Fugitive
Mirror Master framed Piper for the murder of his parents, and Rathaway went to prison. While in Iron Heights he developed a rapport with rats, like his namesake. As he grew more desperate, he broke out of prison, fleeing across several states before making a deal with the Trickster and the FBI. During his time in training with this team, a spell erased everyone's memories of the Flash's identity.
When the "good" Rogues went after the remaining "bad" Rogues, the Top arrived to undo his brainwashing—or perhaps to impose a new set of programming. As Piper battled the Flash, the speedster took a gamble and unmasked himself to his friend, triggering a flood of memories. Piper appeared to be his old self again, and went to Linda's aid.
One year later, with Wally and Linda missing, the Pied Piper rejoined the Rogues out of loneliness. Heat Wave insisted on putting him through a series of loyalty tests.
Piper was present when several Rogues killed the fourth Flash, Bart Allen. They found themselves on the run from heroes and villains alike (Flash: TFMA #10–13: Full Throttle & Countdown, 2007). Trickster and Piper were the only ones to escape capture, though they were bound together by a pair of unbreakable handcuffs. They fled together across the country, until Deadshot caught up with them and killed the Trickster (Countdown to Final Crisis #22, 2007). At present, Piper remains bound to the corpse of his former comrade-in-arms.
Text by Kelson Vibber. Do not copy without permission.
---
Cape: The Flash #190 (November 2002) - Scott Kolins
Paramilitary Costume: Flash (second series) #120 (December 1996) - Paul Ryan and John Nyberg
Original Costume: Who's Who (loose-leaf edition) #16 (February 1992) - Greg LaRocque and José Marzan, Jr.
Profile: The Flash #190 (November 2002) - Scott Kolins
Flash vol. 1 #307 (March 1982): "Prey for the Piper," Cary Bates
Flash vol. 2 #190 (November 2002): "Rat Race," Geoff Johns
Who's Who in the DC Universe #18 (August 1986)
Who's Who (loose-leaf edition) #16 (February 1992)
The Flash Secret Files #1 (November 1997)
The DC Comics Encyclopedia (2004)
Countdown #28 (October 17, 2007)
The Flash Companion (2008)
Flash #106 (May 1959): "The Pied Piper of Peril!" John Broome
Flash #138 (August 1963): "The Pied Piper's Double Doom," Gardner Fox
Flash #155 (September 1965): "The Gauntlet of Super-Villains," John Broome
Flash #164 (September 1966): "Flash—Vandal of Central City," John Broome
Flash #174 (November 1967): "Stupendous Triumph of the Six Super-Villains," John Broome
Flash #218 (November 1972): "The Flash of 1000 Faces," Cary Bates
Flash #231 (February 1975): "The Only Crook Flash Could Never Catch!" Cary Bates
Flash #239 (February 1976): "The Tailor-Made Crimes of Central City!" Cary Bates
Flash #254 (October 1977): "To Believe or Not to Believe!" Cary Bates
Flash #256 (December 1977): "Prisoner of the Past," Cary Bates
Flash #293 (January 1981): "The Pied Piper's Paradox Peril!" Gerry Conway
Flash #300 (August 1981): "1981—A Flash Odyssey," Cary Bates (cameo)
Flash #307 (March 1982): "Prey for the Piper," Cary Bates
Flash #325 (September 1983): "Dead Reckoning," Cary Bates
Flash #333 (May 1984): "Down With The Flash," Cary Bates
Flash #334 (June 1984): "Flash Freak-Out!" Cary Bates
Flash #335 (July 1984): "How To Trash a Flash!" Cary Bates
Flash #336 (August 1984): "Murder on the Rocks," Cary Bates
Flash #337 (September 1984): "Beware the Speed-Demons!" Cary Bates
Flash #338 (October 1984): "The Revenge of the Rogues!" Cary Bates
Flash #346 (June 1985): "Dead Man's Bluff," Cary Bates
Flash #20 (Holiday 1988): "Lost, Worthless, and Forgotten," William Messner-Loebs
Secret Origins #41 (June 1989): "A Rogue By Any Other Name," Dan Mishkin and Gary Cohn
Flash #31 (October 1989): "The Comfort of a Stranger," William Messner-Loebs
Flash #32 (November 1989): "Welcome to Keystone City," William Messner-Loebs
Flash #35 (February 1990): "Behold the Turtle!" William Messner-Loebs (cameo)

Flash #44 (November 1990): "Balance Sheet," William Messner-Loebs
Flash #46–47 (January–February 1991): "The Day of the Beast" and "Old Dogs - New Teeth," William Messner-Loebs
Flash #51 (June 1991): "Rage of the Proletariat," William Messner-Loebs
Flash #53 (August 1991): "Fast Friends," William Messner-Loebs

Flash #56–57 (November 1991): "The Way of a Will," William Messner-Loebs
Flash #58 (January 1992): "The Barry Allen Foundation," William Messner-Loebs
Flash #60 (March 1992): "Last Resorts, Part 2," William Messner-Loebs (cameo)
Flash #61 (April 1992): "The Old Wedding Dodge," William Messner-Loebs

Flash #67 (August 1992): "Misdirection," Mark Waid
Flash #74 (March 1993): "Trust" (The Return of Barry Allen Part 1), Mark Waid
Flash #80,82 (September–October 1993): "Back on Track Parts 1 & 3," Mark Waid
Flash #90 (May 1994): "On the Run," Mark Waid (cameo)
Flash #93 (August 1994): "Reckless Youth Chapter 2: Quick Study," Mark Waid
Flash #97–100 (January–April 1995): "Terminal Velocity Parts 3–6", Mark Waid

Flash #106 (October 1995): "Back With A Vengeance," Mark Waid
Flash #112 (April 1996): "Future Perfect," Mark Waid
Flash #118 (October 1996): "Cold, Cold Heart," Mark Waid and Brian Augustyn
Flash #120–121 (December 1996–January 1997): "Presidential Race!" Mark Waid and Brian Augustyn
Flash #127–128 (July–August 1997): "Hell To Pay Parts 1–2," Mark Waid and Brian Augustyn
Flash Annual 10 (1997): "Sound and Fury" (Pulp Heroes), Michael Jan Friedman
New Year's Evil: The Rogues (February 1998): "Men & Gods," Brian Augustyn
Flash #140 (August 1998): "The Black Flash Part 2," Mark Millar

Flash #154 (November 1999): "Dimensionally Challenged," Mark Waid and Brian Augustyn (alternate reality)
Flash #155–157 (December 1999–February 2000): The Dark Flash Saga, Mark Waid and Brian Augustyn
Flash #168–169 (January–February 2001): Wonderland parts 5–6, Geoff Johns
Flash #170 (March 2001): "Blood Will Run part 1: Breaking the Foundation," Geoff Johns
Flash: Iron Heights (2001), Geoff Johns
Flash #178 (November 2001): "Caged," Geoff Johns
Flash #179 (December 2001): "Smile for the Camera," Geoff Johns
DC First: Flash/Superman (July 2002): "Speeding Bullets," Geoff Johns
Flash #190 (November 2002): "Rat Race," Geoff Johns
Flash #210 (July 2004): "Reconnected," Geoff Johns (cameo)
Flash #215–216 (December 2004–January 2005): "The Secret of Barry Allen" Parts 2–3, Geoff Johns
Flash #217 (February 2005): "Post-Crisis," Geoff Johns
Flash #218 (March 2005): "Rogue Profile: Heat Wave," Geoff Johns
Flash #½ (2005): "Rogue Wars Prologue: Tricksters," Geoff Johns (cameo)
Flash #220–225 (May–October 2005): "Rogue War," Geoff Johns
Flash #226 (November 2005): "Down Time," Stuart Immonen & Kathryn Kuder
The Flash: The Fastest Man Alive #11–13 (June–August 2007): "Full Throttle," Marc Guggenheim
All-Flash #1 (September 2007): "Justice, Like Lightning," Mark Waid
Regular in Countdown (2007–2008)
Final Crisis: Rogues' Revenge (3-issue miniseries, September-November 2008), Geoff Johns