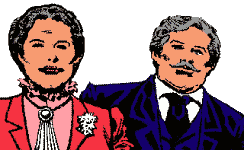 Full Names:
Henry Paul Allen and Nora Thompson Allen
Known Relatives:
Barry
(son),
Malcolm Thawne
(son),
Iris
(daughter-in-law),
Don
(grandson),
Dawn
(granddaughter),
Bart
(great-grandson),
Jenni Ognats
(great-granddaughter)
Home:
Fallville, Iowa
Occupations:
Doctor, homemaker
Hair:
(Henry) originally blond, now gray; (Nora) originally red or blonde, now gray
First Appearance:
Flash #126
, February 1962
Death:
Sometime after
Flash #350
, of old age)
See Also:
Henry and Nora Allen (TV)
---
Henry and Nora Allen spent most of their adult life in the small town of Fallville, Iowa, where they raised their son Barry.
A few months after their daughter-in-law Iris died, the Allens were caught in a near-fatal car accident while driving to visit their son. Nora was left comatose, and Henry was possessed by the spirit of the deceased villain, the Top (Flash v.1 #297–303, 1981). During their recovery, Barry revealed to them his dual life as the Flash.
The Allens were one of their son's few sources of support during his manslaughter trial, since he had let "Barry Allen" remain missing during the investigation. They followed the trial closely, and bid him farewell when he left for the future to be with Iris again (Flash v.1 #350, 1985). News reached them of his subsequent death, and they never recovered from the shock. They both died just a few months later than their son (Flash v.2 #143, 1999).
Text by Kelson Vibber. Do not copy without permission.
---
Flash (first series) #323 (July 1983) - Carmine Infantino & Rodin Rodriguez
Flash #126 (February 1962): "Snare of the Headline Huntress," John Broome (cameo)
Flash #165 (November 1966): "One Bridegroom Too Many!" John Broome (cameo)
Flash #221 (May 1973): "Time-Schedule For Disaster!" J. David Warner & Cary Bates (cameo)
Flash #257 (January 1978): "The Golden Glider's Triple Play," Cary Bates
Flash #277 (September 1979): "The Self-Destruct Flash," Cary Bates (cameo)
Flash #284 (April 1980): "Run, Flash... Run For Your Life!" Cary Bates
Flash #297 (May 1981): "Captain Cold's Cold, Cold Flame!" Cary Bates
Flash #298 (June 1981): "A Deadly Shade of Peril!" Cary Bates
Flash #299 (July 1981): "A Stab in the Black!" Cary Bates
Flash #301 (September 1981): "...And the Beat Goes Off!" Cary Bates
Flash #302 (October 1981): "Lisa Starts With L and That Stands for Lethal," Cary Bates
Flash #303 (November 1981): "The Top is Alive and Well in Henry Allen!" Cary Bates
Flash #312 (August 1982): "Dead Heat for a Scarlet Speedster!" Cary Bates (cameo)
Flash #322 (June 1983): "Burning a Speedster at Both Ends!" Cary Bates (cameo)
Flash #323 (July 1983): "Run, Flash— Run For Your Wife!" Cary Bates
Flash #324 (August 1983): "The Slayer and the Slain!" Cary Bates
Flash #325 (September 1983): "Dead Reckoning," Cary Bates
Flash #327 (November 1983): "Burnout!" Cary Bates
Flash #329 (January 1984): "What is the Secret of... Simian & Son," Cary Bates
Flash #336 (August 1984): "Murder on the Rocks," Cary Bates
Flash #339 (November 1984): "Warday!" Cary Bates
Flash #342 (February 1985): "Smash-Up," Cary Bates (cameo)
Flash #345 (May 1985): "The Secret Face of the Flash!" Cary Bates
Flash #348 (August 1985): "The Final Verdict," Cary Bates (cameo)
Flash #349 (September 1985): "...And the Truth Shall Set Him Free!" Cary Bates (cameo)
Flash #350 (October 1985): "Flash Flees," Cary Bates
Flash #144 (January 1999): "Nature vs. Nurture," Mark Waid and Brian Augustyn (flashback)
Flash #215 (December 2004): "The Secret of Barry Allen, Part Two: Reformed," Geoff Johns (cameo, flashback)