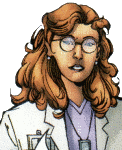 Known Relatives:
Jerry McGee
(husband)
Base of Operations:
Central City, Missouri
(previously Syracuse, New York)
Occupation:
Chief Scientist at STAR Labs
Eyes:
Blue
Hair:
Black (recently dyed brown)
First Appearance:
Flash v.2 #3
, August 1987
See Also:
Tina McGee (TV)
---

Scientist couple Tina and Jerry McGee had already been separated for a year when Tina took on a project to study the Flash's metabolism. Out in the Utah desert, she and Wally West thwarted the Kilg%re—a computer-like intelligence from the Pleiades—as it tried to invade Earth's electronic environment. During this adventure, they fell in love. (Flash v.2 #3–4, 1987)
Jerry was furious, and turned his own research on himself, turning him into Speed Demon—an eight-foot tall superstrong psychopath with speed rivaling the Flash. He tried repeatedly to kill both Wally and Tina, until he burned himself out and nearly died. After multiple transplants, he slowly recovered and regained his sanity.
Tina lived with Wally for several months, fighting constantly with him and his mother, who was also living with Wally at the time. The stress tore the relationship apart, and Tina left.

While working at the Pacific Institute, Dr. McGee led a team to restore Wally's speed after he lost it in the alien invasion (Invasion!, 1989). The experiment was a disaster, and the Flash left a trail of destruction from New York to New Mexico before disappearing. Tina, Jerry, and Wally's friend Mason embarked on a cross-country trip to find him. Tina and Jerry reconnected, falling in love again. (Flash v.2 #24–28, 1989)
Now reconciled, the two Drs. McGee sought out positions where they could work together. They worked on an artificial intelligence project at Central University, which unwitting unleashed the Kilg%re (Flash v.2 #36–43, 1990). Not long afterward, they settled at the Central City branch of S.T.A.R. Labs (Flash v.2 #50, 1991).
The McGees have continued to help out the Flash from time to time.
One Year Later
Dr. Tina McGee has become the chief scientist of S.T.A.R. Labs in Central City. One of her projects has been to determine what happened to the speed force during Infinite Crisis. This included a series of tests on Bart Allen, the only apparent survivor of the incident.
Text by Kelson Vibber. Do not copy without permission.
---
"The Kilg%re" - Flash (second series) #3 (August 1987), Mike Baron
"Speed McGee" - Flash (second series) #5 (October 1987), Mike Baron
Lab Coat: Flash: The Fastest Man Alive #1 (August 2006) - Ken Lashley and one of KWL Studio, Norm Rapmund, Marlo Alquiza or Jay Leisten.
Portrait - Flash (second series) #16 (September 1998) - Greg LaRocque and Larry Mahlstedt
Tina & Jerry: Flash (second series) #50 (May 1991) - Greg LaRocque and José Marzan, Jr.
Flash Annual 3 under Jerry and Tina McGee (1989)
Who's Who (loose-leaf edition) #10 under Flash Supporting Cast (June 1991)
Regular from Flash #3–18 (1987–1988), Mike Baron and William Messner-Loebs
Flash #24–28 (March–July 1989): The Porcupine Man Saga, William Messner-Loebs
Flash Annual 3 (1989): "Flashing on the Past," William Messner-Loebs
Flash #35 (February 1990): "Behold the Turtle!," William Messner-Loebs
Flash #36–38, 40 (March–July 1990): Lead-in to Night of the Mechanical Zombies, William Messner-Loebs
Flash #42–43 (September–October 1990): Night of the Mechanical Zombies, William Messner-Loebs
Flash #50 (May 1991): "The Fastest Man—Alive!" William Messner-Loebs
Flash Annual 4 (1991): "Family Business" (Armageddon 2001), Mark Waid
Flash #61 (April 1992): "The Old Wedding Dodge," William Messner-Loebs
Flash #84 (November 1993): "Cutting Edge," Mark Waid
Flash #117–118 (September–October 1996): "Race Against Time Part 5" and "Cold, Cold Heart," Mark Waid and Brian Augustyn
Flash Annual #11 (1998): "Haunts," Brian Augustyn
Flash #177 (October 2001): "Event Horizon," Geoff Johns (cameo)
Flash #180 (January 2002): "Peek-a-Boo," Geoff Johns (cameo)
Flash #188 (September 2002): "Crossfire Conclusion: Metal and Flesh," Geoff Johns
Flash #193 (February 2003): "Run Riot Part 2: On the Run," Geoff Johns
Flash #195 (April 2003): "Off Balance," Geoff Johns
The Flash: The Fastest Man Alive #1–6 (August 2006–January 2007): "Lightning in a Bottle," Danny Bilson & Paul DeMeo