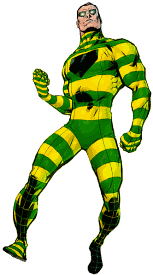 Real Name:
Roscoe Dillon
Aliases:
Henry Allen (briefly)
, Thomas O'Neill
Significant Other:
Lisa Snart
Occupation:
Criminal, Senator
Group Affiliation:
The Rogues
Base of Operations:
Central City, Missouri
First Appearance:
Flash v.1 #122
(August 1961)
Death (1):
Brain cells overheated by oversensitivity to
Flash's
vibrations (
Flash v.1 #243
, August 1976)
Resurrection:
Took possession of senator Thomas O'Neill's body (
Hawk & Dove #27–28
, September–October 1991)
Death (2):
Frozen and shattered by
Captain Cold
(
Flash v.2 #222
, July 2005)
---
A classic Rogue who began with top-based spinning gimmicks, developed mind-over-matter powers and speed, then died. The Top has returned from death—through his own force of will—at least three times, and appears to have permanently taken over his current body.
Gimmicks
Small-time criminal Roscoe Dillon decided he needed a gimmick to improve his career. Having been fascinated by tops as a child, he chose the top as his gimmick and his super-criminal identity, building his crimes around spinning and top-like gadgets, and bringing him to the attention of the Flash. While working with other Central City criminals calling themselves the Rogues Gallery, he began dating Captain Cold's sister, Lisa Snart. For a time he even coached her in her ice skating career.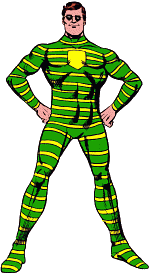 After years of spinning at high velocities, the Top developed mind-over-matter abilities... but during the first caper on which he used them, he discovered that they had left his brain cells sensitive to the Flash's super-speed vibrations. Within days, his brain overheated and he died, but not before planting bombs across Central City as a goodbye present (Flash #243–244, 1976).
Beyond the Grave
The Top's story does not end with his death, however. Several years later, when Barry Allen's parents were in a car accident, Henry Allen's heart stopped for thirty seconds (Flash #297, 1981) before the other driver performed CPR. Dillon's ghost took possession of Allen's briefly-vacant body, giving him the perfect chance for revenge. Hooking up with Lisa (now the Golden Glider), he plotted to kill the Flash and then move on to his body. However, the Flash tricked him into attempting to possess him while he was still alive, and Henry Allen's spirit returned to his own body (Flash #303, 1981).
Some time later, a team of scientists researching dimension-travel trapped themselves in Hell. Hawk and Dove led several other heroes through the portal to rescue them, only to face a group of dead villains including the Top and the Icicle (Hawk and Dove Annual #1, 1990). Hawk learned it might be possible for his late brother (the original Dove) to return to life. At the same time, the Top learned about Hawk.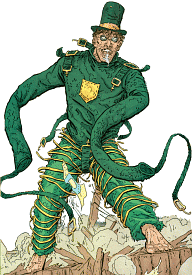 Later tricking Hawk into believing he was helping his brother return, the Top caused a fatal car accident and took over the body of Senator Thomas O'Neill (Hawk & Dove #27–28, 1991). Initially intending to run for President, his unfamiliarity with politics made him settle for a vice-presidential nomination. He set up his former comrade the Pied Piper to assassinate his running mate just after they won the election (Flash #120–121, 1996–1997). The new Flash uncovered the deception, President-Elect Cartwright declined his election... and the souls of the damned Dillon had left behind returned to reclaim him. "Thomas O'Neill," barely coherent, languished in Iron Heights.
Enemies and Allies
It was kept secret for years, but a letter from Barry Allen revealed a lost chapter in the Top's life. Barely a week after he was exorcised from Henry Allen, the Top possessed another accident victim, going on a mad rampage against anyone connected to Barry Allen. The Flash captured him, but knew the Top would return again and again, even if he died. He took the Top to the Justice League and proposed an experiment: he asked Zatanna to alter his mind, turning the Top into a hero. It worked at first, but the guilt over his past deeds eventually drove him mad. His spirit left the body it had taken over.
The letter asked the new Flash to restore the Top's mind if and when he returned. After weighing the options, he contacted Zatanna, tracked down the Top, and restored his sanity... but what they learned was chilling. During his brief career as a hero, the mentally unstable Top had attempted to reprogram many of the Flash's enemies. So many of Central City's rogues tried to reform after the Flash died. Most returned to crime, but others stayed on the right side of the law. The now-sane, but still villainous Top vowed to restore these Rogues to their original state (Flash #215–216, 2004). He waited for both groups to come into conflict, then made good on his promise. Minutes later, Captain Cold killed him for pitting Rogues against one another (Flash #222, 2005).
Of course, death has never stopped the Top for very long.
Text by Kelson Vibber. Do not copy without permission.
---
"If I Can't Rob Central City, Nobody Can!" - Flash (first series) #243 (August 1976), Cary Bates
"The Top Is Alive and Well in Henry Allen" - Flash (first series) #303 (November 1981), Cary Bates
"Never Say Die!" - Hawk and Dove (third series) Annual #1 (1990), Barbara and Karl Kesel
"Mad Dogs and Americans" - Hawk and Dove (third series) #28 (October 1991), Barbara and Karl Kesel
"Presidential Race Chapter Two: Down to the Wire" - Flash (second series) #121 (January 1997), Mark Waid and Brian Augustyn
"The Secret of Barry Allen" Parts 2–3 - Flash (second series) #215–216 (December 2004–January 2005), Geoff Johns
Modern Costume: Flash (second series) #216 (January 2005) - Howard Porter and Livesay
Classic Costume: Who's Who (first series) #24 (February 1987) - Carmine Infantino and Joe Giella
Straitjacket: Flash (second series) #195 (April 2003) - Scott Kolins and Doug Hazlewood (thanks to Michael Kaiser for scanning and cleaning)
Who's Who in the DC Universe #24 (February 1987)
The DC Comics Encyclopedia (2004)
The Flash Companion (2008)
Flash #122 (August 1961): "Beware the Atomic Grenade!" John Broome

(Impersonated)

Flash #130 (August 1962): "Who Doomed the Flash?" John Broome
Flash #141 (December 1963): "The Mystery of Flash's Third Identity," John Broome
Flash #155 (September 1965): "The Gauntlet of Super-Villains," John Broome
Flash #157 (December 1965): "The Day Flash Aged 100 Years!" Gardner Fox
Flash #174 (November 1967): "Stupendous Triumph of the Six Super-Villains," John Broome
Flash #219 (January 1973): "The Million Dollar Deathtrap," Cary Bates
Flash #231 (February 1975): "The Only Crook Flash Could Never Catch!" Cary Bates
Flash #239 (February 1976): "The Tailor-Made Crimes of Central City!" Cary Bates
Flash #243–244 (August–September 1976): "If I Can't Rob Central City, Nobody Can!" and "The Last Day of June is the Last Day of Central City!" Cary Bates
Flash #250 (June 1977): "One Freeze-Dried Flash—Coming Right Up!" Cary Bates (flashback)
Flash #256 (December 1977): "Prisoner of the Past," Cary Bates (illusion)
Flash #298–299 (June–July 1981): "A Deadly Shade of Peril!" and "A Stab in the Black!" Cary Bates (acting as Henry Allen)
Flash #300 (August 1981): "1981—A Flash Odyssey," Cary Bates (cameo)
Flash #301–302 (September–October 1981): "...And the Beat Goes Off!" "Lisa Starts With L and That Stands for Lethal," Cary Bates (acting as Henry Allen)
Flash #303 (November 1981): "The Top is Alive and Well in Henry Allen!" Cary Bates
Hawk and Dove v.3 Annual #1 (1990): "Never Say Die!" Barbara and Karl Kesel
Hawk and Dove v.3 #27–28 (September–October 1991): "Crossed Signals" and "Mad Dogs and Americans," Barbara Kesel
Flash #120–121 (December 1996–January 1997): "Presidential Race!" Mark Waid and Brian Augustyn
Flash #179 (December 2001): "Smile for the Camera," Geoff Johns (cameo)
Flash #192–193 (January–February 2003): "Run Riot" Parts 1–2, Geoff Johns
Flash #195 (April 2003): "Off Balance," Geoff Johns
Flash #208 (May 2004): "The Red Carpet," Geoff Johns (cameo)
Flash #210 (July 2004): "Reconnected," Geoff Johns
Flash #215–216 (December 2004–January 2005): "The Secret of Barry Allen" Parts 2–3, Geoff Johns
Flash #218 (March 2005): "Rogue Profile: Heat Wave," Geoff Johns (cameo)
Flash #221–222 (June–July 2005): "Rogue War, Chapters 2–3," Geoff Johns