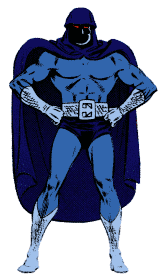 Real Name:
Creed Phillips
Occupation:
State Senator
Base of Operations:
Central City, Missouri
Hair:
Brown (gray at temples)
Eyes:
Blue
First Appearance:
(as Creed)
Flash (first series) #312
(August 1982); (as Eradicator)
Flash (first series) #314
(October 1982)
Death:
Turned powers on himself to save the Flash (
Flash (first series) #320
, April 1983)
(Not to be confused with the Superman villain.)
---
The Eradicator didn't just catch criminals—he disintegrated them! This repeatedly put him at odds with the police and the second Flash. Appropriately, the Eradicator's civilian identity was a rival of Barry Allen: for the affections of Fiona Webb.
The murderous vigilante was none other than state senator Creed Phillips. In response to a campaign promise to crack down on crime, a pair of criminals had kidnapped him and left him to die at an illegal plutonium dumping site. Instead of killing him, the radiation transformed him, giving him the ability to disintegrate living beings with a touch, and creating an alternate personality with the will to literally wipe out the criminal element.
When the two sides of his life collided, Phillips took his own life to prevent the Eradicator from killing the Flash.
Text by Kelson Vibber. Do not copy without permission.
---
Who's Who in the DC Universe #7 (September 1985) - Carmine Infantino & Dennis Jenson
Flash #319 (March 1983): "A Slight Touch of Death!" Cary Bates
Who's Who in the DC Universe #7 (September 1985)
Flash #312 (August 1982): "Dead Heat for a Scarlet Speedster!" Cary Bates
Flash #314 (October 1982): "Look Upon the Eradicator!" Cary Bates
Flash #315 (November 1982): "The Eradicator Strikes Again!" Cary Bates
Flash #316 (December 1982): "Speed Kills!" Cary Bates
Flash #317 (January 1983): "A Fast Way to Die!" Cary Bates
Flash #318 (February 1983): "The Killer Who Wiped Central City Clean!" Cary Bates
Flash #319 (March 1983): "A Slight Touch of Death!" Cary Bates
Flash #320 (April 1983): "The Final Purge!" Cary Bates