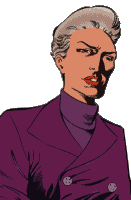 Real Name
Serina Grant
Aliases:
Celia or Lila
*
McGrath
Known Relatives:
Richard (brother), posed as her husband Don or Bob
Occupation:
Con artist; head of Enlightened Celestial Communications
Base of Operations:
Center for Advanced Life Enhancement, outside
Central City
Hair:
Gray
Eyes:
Brown
First Appearance:
Flash v.2 #36
, March 1990
---
Serina and Richard Grant were a brother-and-sister con artist team who ran blackmail rackets in Chicago. Their greatest success, however, was with a new-age self-help scam.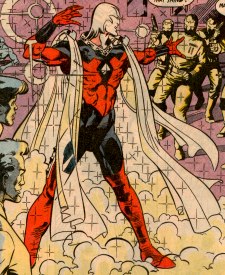 They posed as married couple Don and Lila* McGrath, and "Lila" claimed to channel the spirit of the ancient Atlantean priest, Llar-Twnakc. She parlayed Llar-Twnakc into a book, My Other Self, which set the stage for a new-age retreat—the Celestial Ranch—based on Llar-Twnakc's philosophy. In reality, the cult was simply a sham to convince people to sign over bank accounts, investment portfolios, real estate and more.
The McGraths brought Rudolph West (then thought to be dead) into the scam, in hopes of acquiring a celebrity: West's son Wally, the Flash. Lila McGrath appeared on Linda Park's news show, and "summoned" Llar Twnakc to defend against a terrorist attack. The spirit was a hologram, and the "terrorists" were firing blanks, but the show convinced the Flash, in a moment of self-doubt, to explore the Celestial Ranch and its teachings. Seances at which Wally spoke with his "dead" father convinced him, and he began doing TV endorsements for the movement.
At the same time, a more skeptical Linda Park began her own investigation. Over the course of several weeks she found more and more evidence that things weren't entirely honest at the Ranch. During this time she was possessed herself, by a being claiming to be Seamus O'Relkig, who provided the McGrath's real names, then later exposed the holograms on live television.
Don tried to kill his sister during the broadcast, figuring that her popularity as a martyr would net him even more publicity and money. The Flash stopped the bullet, and Rudolph West turned him in before vanishing himself. Celia/Lila's fate is unknown, but either a racketeering conviction or lawsuits seem likely.
Text by Kelson Vibber. Do not copy without permission.
---
Flash v.2 #36–39 (March–June 1990), William Messner-Loebs
McGrath: Flash (second series) #37 (April 1990) - Greg LaRocque &amp Larry Mahlstedt
Llar-Twnakc: Flash (second series) #36 (March 1990) - Greg LaRocque &amp Larry Mahlstedt
Flash #36 (March 1990): "Running on the Edge," William Messner-Loebs
Flash #37 (April 1990): "Channels of Love—and Fear!" William Messner-Loebs
Flash #38 (May 1990): "Running on the Edge," William Messner-Loebs
Flash #39 (June 1990): "The End of Everything," William Messner-Loebs
During the first half of the four-part story, the "McGraths" are consistently called Lila and Donald. Lila becomes Celia during the second half, and Don is called Bob throughout one issue. No explanation is given, and both sets of names are used around their followers, so it's not simply a matter of aliases.