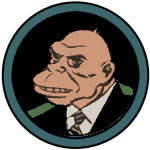 Full Name:
"Eel" Madden
Occupation:
Racketeer, Robber
Base of Operations:
Keystone City
, later Eelton
First Appearance:
Comic Cavalcade #3
(Summer 1943)
Created By:
Gardner Fox and E.E. Hibbard
---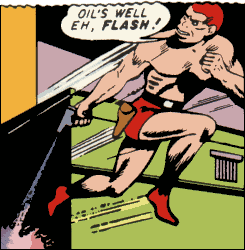 "Eel" Madden made a name for himself as a slippery criminal—literally. He had a grease gun which prevented anyone from catching hold of him or pursuing.
He changed tactics after a narrow escape from the Flash. While laying low in the small town of Pumpkin Center, he took advantage of dozens of outdated "blue laws." By sending people to jail for neglecting to serve a raw carrot with each meal, or not wearing green, Eel and his gang took over the town. As it happened, Jay Garrick and his girlfriend Joan were visiting her uncle's farm just outside town, and the Flash found the necessary loopholes in the law to bring Eel to justice.
Years later, when Madden was let out on parole, he decided to take the scam a step further. He rounded up his old gang, incorporated the city of Eelton, and hired three dimwits as the figurehead mayor, judge and police chief. They embarked on a massive advertising campaign to bring in residents and businesses. Once enough people had arrived, they began enforcing laws they had carefully crafted, running the town like one big protection racket—with the law behind it. Fortunately for Eelton, Garrick Labs was among the businesses attracted by the low rents, and the Flash found a way to work within the law, harassing the crooks until they gave up and left.
Text by Kelson Vibber. Do not copy without permission.
---
Flash Comics #79 (January 1947) - E.E. Hibbard
Comic Cavalcade #3 (Summer 1943): "The Laws of Pumpkin Center," Gardner Fox (reprint info)
Flash Comics #79 (January 1947): "Evil over Eelton!" Gardner Fox
While I have personally read both of these stories, I do not know whether the Eel made any further appearances. See the page on Golden-Age Accuracy for more information.
No known further appearances.