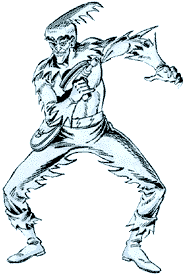 Real Name:
Dr. Joar Mahkent
Known Relatives:
Annie MacDonald (wife, deceased), Lenora MacDonald (sister-in-law), Donald Mahkent (deceased), Cameron Mahkent (son), James Christie (grandson, deceased),
Doyle Christie
(granddaughter)
Occupation:
Criminal, Inventor
Base of Operations:
Gotham City, then
Keystone City, Kansas
First Appearance:
All-American Comics #90
Death:
During the Crisis (
Crisis on Infinite Earths #10
, January 1986)
---
Physicist Joar Mahkent developed a cold ray gun, and began a career as a costumed criminal by faking his own death, killing the man who had attempted to steal his invention and altering his face to resemble his own. After years of crime, he embarked on a legitimate career as an inventor and became immensely wealthy.
Anticipating (rightly) that he might die during the Crisis (Crisis on Infinite Earths #10, January 1986), Mahkent prepared a will; distrusting his family, he left half his estate to the Flash, an act which precipitated the brief appearance of an impostor Icicle, four dead bodies, and finally a legal battle with the Flash over the disbursement of the inheritance.
Mahkent's estranged son, Cameron, has since taken on the identity of the Icicle and joined the Injustice Society, often battling the JSA.
Text by Kelson Vibber. Do not copy without permission.
---
Who's Who (first series) #11 (January 1986) - Paris Cullins and Karl Kesel
Who's Who in the DC Universe #11 (January 1986)
The DC Comics Encyclopedia under Icicle II (2004)
Flash #56–57 (November–December 1991): "The Way of a Will," William Messner-Loebs
Flash #58 (January 1992): "The Barry Allen Foundation," William Messner-Loebs