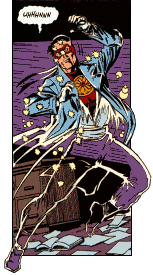 Real Name:
Donnie Trollbridge
Occupation:
Mercenary
Known Relatives:
Mason Trollbridge
(father)
Base of Operations:
Keystone City, Kansas
Eyes:
Blue
Hair:
Black
First Appearance:
Flash v.2 #59
(February 1992)
---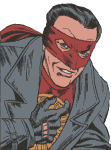 Ne'er-do-well Donnie Trollbridge stole an experimental invisibility vest from the government. He used it to become a mercenary, ruthless and brutal, equally at home as a spy or a thug. He also lived up to his name: the Last Resort for the desperate.
The Last Resort ran afoul of the third Flash when he was hired to locate files on illegal activities by the former head of the Froz-o-Food corporation. Believing the files were in the possession of the man's daughter, Leonora MacDonald, he began casing the estate. MacDonald, frightened by the intrusion, called her friend Mason Trollbridge—Donnie's estranged father—and his friend Wally West for help. During the mercenary's next foray into the mansion, the Flash managed to pull his mask off, and Mason recognized the Last Resort as his son.
The Flash's allies tracked down the files. On his next attack, they herded the Last Resort toward the basement, where Mason was waiting for him. The job done, father and son reconciled.
The Last Resort has not been seen since. It is unknown whether he is still active.
Text by Kelson Vibber. Do not copy without permission.
---
Flash (second series) #60 (March 1992)Rod Whigham and Frank McLaughlin
Flash #59–60 (February–March 1992): "Last Resorts," William Messner-Loebs