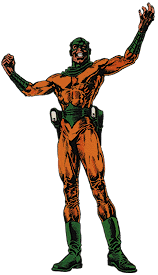 ---
Scotsman Evan McCulloch grew up in an orphanage, a photograph all he knew of his parents, even his name taken from the woman who ran the house. One night he fought back against the orphanage's main bully—and killed him. McCulloch ran away as a teen, brawls leading to robbery, robbery leading to extortion, extortion leading to a career as a hit man. One day he took a job, and only at the last second, after he had pulled the trigger, did he recognize his target as his father. By the time he worked up the nerve to contact his mother, she had killed herself.
In the depths of his despair, he was found by agents from the US government. He was shocked to find they didn't want to capture him—they wanted to hire him! To hide their involvement, they set him up with the original Mirror Master's equipment. He struck out on his own quickly, though. His background made him more threatening than his predecessor, although being a mercenary rather than a criminal meant that, under some circumstances, a better offer might swing his allegiance. So, also, would certain principles, much to the dismay of some of his more shady employers.
When Abra Kadabra brought Mirror Master and four other Rogues an offer that would bring them respect, he jumped. This offer would "guarantee that they would be remembered forever not as has-beens...but as the most infamous villains of their age." What Kadabra did not tell them was that it would cost them their lives. The five died, and unleashed the demon Neron upon Earth (Underworld Unleashed #1, 1995).
Neron was not finished with them, however. As part of a convoluted plot to force the Flash into a deal, he sent the Rogues' bodies to Earth without their souls. The bank robbers who had so enjoyed matching wits with the Flash were now soulless killers, in command of vastly enhanced powers, with even more powerful avatars that caused enormous damage and killed thousands before the Flash was able to turn the deal around and force Neron to halt the destruction and return the Rogues' souls to their bodies (Flash #127–129, 1997).
Mirror Master, like his fellow Rogues, returned to his life of crime, a bit darker for his experience. Among other things, he has picked up a drug habit.
Mirror Master was present when several Rogues killed the fourth Flash, Bart Allen. It's not clear whether he participated in the actual murder (Flash: TFMA #10–13: Full Throttle & All-Flash #1, 2007). He was captured and sent with the rest to the alien prison planet, Salvation (Salvation Run, 2007–2008).
Text by Kelson Vibber. Do not copy without permission.
---
Flash #212 (September 2004): "Mirror, Mirror On the Wall," Geoff Johns
Main: Who's Who (loose-leaf edition) #13 (October 1991) - Alan Weiss
Profile: The Flash #212 (September 2004) - Ethan van Sciver
Flash #212 (September 2004): "Mirror, Mirror On the Wall," Geoff Johns
Who's Who (loose-leaf edition) #13 (October 1991)
Flash Secret Files #3 under The Rogues (November 2001)
The DC Comics Encyclopedia as Mirror Master III (2004)
The Flash Companion (2008)
Flash Secret Files and Origins 2010 (May 2010)
DC Comics Super-Heroes and Villains Fandex under The Rogues (2010)
Flash #105 (September 1995): "Through a Glass, Darkly," Mark Waid and Michael Jan Friedman
Underworld Unleashed #1 (November 1995), Mark Waid
Flash #125–126 (May–June 1997): "Cause and Effect" and "Trial Run" (Lead-in to Hell To Pay), Mark Waid and Brian Augustyn
Flash #127–129 (July–September 1997): "Hell To Pay," Mark Waid and Brian Augustyn
Flash #133 (January 1998): "Flash Through the Looking Glass," Grant Morrison and Mark Millar
New Year's Evil: The Rogues (February 1998): "Men & Gods," Brian Augustyn
Flash Secret Files #2 (November 1999): "Twenty-First Century Rogue," Mark Waid and Brian Augustyn
Flash #166–169 (November 2000–February 2001): "Wonderland" parts 3–6, Geoff Johns
Flash #176 (September 2001): Birth Right Part 2: "The Rain Maker," Geoff Johns
Flash #177 (October 2001): "Event Horizon," Geoff Johns
Flash #181 (February 2002): "Fallout," Geoff Johns (cameo)
Flash #183–188 (April–September 2002): "Crossfire," Geoff Johns
Flash #195 (April 2003): "Off Balance," Geoff Johns (cameo)
Flash #207 (April 2004): "Rush Hour," Geoff Johns
Flash #210 (July 2004): "Reconnected," Geoff Johns
Flash #212 (September 2004): "Mirror, Mirror On the Wall," Geoff Johns
Flash #213 (October 2004): "Slow Motion," Geoff Johns (cameo)
Flash #217 (February 2005): "Post-Crisis," Geoff Johns
Flash #220–225 (May–October 2005): "Rogue War," Geoff Johns
Flash #228 (January 2006): "Finish Line, Part 2: The Summoner," Joey Cavalieri (dream sequence)
Countdown #51–49 & #47–46 (May–June 2007) Paul Dini (head writer) with Jimmy Palmiotti, Justin Gray, Tony Bedard, Sean McKeever
The Flash: The Fastest Man Alive #11–13 (June–August 2007): "Full Throttle," Marc Guggenheim
All-Flash #1 (September 2007): "Justice, Like Lightning," Mark Waid
Salvation Run (7-issue miniseries, January–July 2008), Bill Willingham & Matthew Sturges
Final Crisis: Rogues' Revenge (3-issue miniseries, September-November 2008), Geoff Johns
DC Universe Halloween Special '09 (December 2009): "Mirror Games," Joe Harris