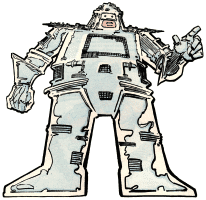 Real Name:
(I) Basil Nurblin, (II) Luna Nurblin
Known Relatives:
(I) Francine (wife), Luna (daughter); (II) Basil & Francine (parents)
Occupation:
(I) Toymaker, (II) student, later criminal agent
Group Membership:
(II) Les Mille Yeux
Base of Operations:
Central City, Missouri
First Appearance:
Flash v.1 #304
(December 1981)
---
The armored Colonel Computron appeared out of nowhere to attack Willard W. Wiggins, president of Wiggins Toy Corporation, shortly after the release of the top-selling Captain Computron toys. The primary suspects were the disgruntled employee who invented the toy, Basil Nurblin, and his wife Francine and daughter Luna. After a follow-up attack on the Flash with Captain Boomerang, Colonel Computron faded from view.
Colonel Computron later resurfaced working for international crime cartel Les Mille Yeux (The Thousand Eyes), capturing Starman and an experimental transmutation machine. After Phantom Lady and Rampage freed Starman and defeated Colonel Computron, they learned that Basil had been the original Computron, then Luna put on the suit when Les Mille Yeux came hiring.
Spin-offs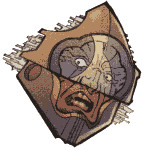 Black marketeer Blacksmith used robotic "Computron" units to guard the Network. A Computron has appeared, working with the Rainbow Raiders, in the guise of a floating head with destructive eye-beams. The face appears male, but it is not clear whether this is Basil Nurblin or someone new using the identity.
Text by Kelson Vibber. Do not copy without permission.
---
Colonel Computron: Who's Who in the DC Universe #5 (July 1985) - Carmine Infantino & Klaus Janson
Floating Head: Flash (second series) #217 (February 2005) - Howard Porter and Livesay
Who's Who in the DC Universe #5 (July 1985)
Flash #304 (December 1981): "One More Blip...And You're Dead!" Cary Bates
Flash #310 (June 1982): "Colonel Computron Strikes Back—With a Vengeance," Cary Bates
Flash #311 (July 1982): "Captives of the Boom-Boom-Boomerang!" Cary Bates
Starman #36–37 (July–August 1991): "Intruder Alert!" and "Sophisticated Ladies!" Len Strazewski
Flash #208 (May 2004): "The Red Carpet," Geoff Johns (cameo)
Flash #217 (February 2005): "Post-Crisis," Geoff Johns (cameo)
JLA #110 (March 2005): "Syndicate Rules Part 4: 36 Hours: The Calm Before," Kurt Busiek