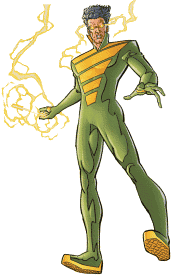 Real Name:
Mark Mardon
Known Relatives:
Clyde (brother, deceased),
Josh Jackam
(son)
Occupation:
Criminal
Group Affiliation:
The Rogues
Past Group Affiliation:
Blacksmith's Rogues
First Appearance:
Flash v.1 #110
, December 1959–January 1960
Created By:
John Broome and Carmine Infantino
---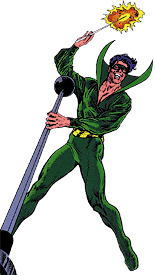 On his way to prison, Mark Mardon escaped, fleeing to his brother Clyde's home. Clyde had just discovered a way to control weather, building the tech into a "weather wand." Clyde threatened to call the police, the brothers fought, and Mark killed him with his invention. Mardon steadfastly claims his brother had died of a heart attack just before he arrived, and no one could prove it was murder.*
Mardon began a criminal career as the Weather Wizard, sometimes using his powers on a small scale (such as zapping someone with lightning) and sometimes on a large scale (imprisoning a town with winter), but he was defeated by the Flash frequently enough early on that he returned to Central City on many occasions to seek revenge. After that Flash's death, the Weather Wizard went into semi-retirement.
Lost in obscurity, Mardon could not resist when Abra Kadabra brought him and four other Rogues an offer that would bring them respect. An offer that would "guarantee that they would be remembered forever not as has-beens... but as the most infamous villains of their age." What Kadabra did not tell them was that it would cost them their lives. The five died, and unleashed the demon Neron upon Earth (Underworld Unleashed #1, 1995).
Neron was not finished with them, however. As part of a convoluted plot to force the Flash into a deal, he sent the Rogues' bodies to Earth without their souls. The bank robbers who had so enjoyed matching wits with the Flash were now soulless killers, in command of vastly enhanced powers, with even more powerful avatars that caused enormous damage and killed thousands before the Flash was able to turn the deal around and force Neron to halt the destruction and return the Rogues' souls to their bodies (Flash #127–129, 1997).
The Weather Wizard, like his fellow Rogues, returned to his life of crime, though also concerned with protecting himself from Neron and trying to make up for his past deeds—like the Trickster, he has a personal reason to avoid Hell.
Legacy
Through Blacksmith, the Weather Wizard learned that he had an infant son, Josh Jackam, who had somehow inherited the ability to control the weather. He attempted to retrieve Josh—for study—but after failing, seemed to lose interest (Flash v.2 #175–176, 2001). Eventually, Inertia forced him to confront the truth: Mardon had internalized the wand's power. He hadn't needed the weapon in years, but it took Inertia breaking it to make him let go of the crutch (Flash: TFMA #11, 2007).
Weather Wizard was one of the three Rogues who delivered the killing blow to Flash 4: Bart Allen (Flash: TFMA #10–13: Full Throttle & All-Flash #1, 2007). He was captured and sent with the rest to the alien prison planet, Salvation (Salvation Run, 2007–2008).
Text by Kelson Vibber. Do not copy without permission.
---
Modern Costume: The Flash (second series) #175 (August 2001) - Scott Kolins and Doug Hazlewood (thanks to Michael Kaiser for scanning and cleaning)
Original Costume: Who's Who (loose-leaf edition) #4 (November 1990) - Alan Weiss
Who's Who in the DC Universe #25 (March 1987)
Who's Who (loose-leaf edition) #4 (November 1990)
The DC Comics Encyclopedia (2004)
The Flash Companion (2008)
Flash Secret Files and Origins 2010 (May 2010)
DC Comics Super-Heroes and Villains Fandex under The Rogues (2010)
Flash #110 (December 1959): "The Challenge of the Weather Wizard!" John Broome
Flash #130 (August 1962): "Kid Flash Meets the Elongated Man," John Broome
Flash #145 (June 1964): "The Weather Wizard Blows Up A Storm!" Gardner Fox
Flash #175 (December 1967): "The Race to the End of the Universe," E. Nelson Bridwell (cameo)
Flash #222 (August 1973): "The Heart That Attacked the World!" Cary Bates
Action Comics #441 (November 1974): "Weather War Over Metropolis," Cary Bates
Flash #231 (February 1975): "The Only Crook Flash Could Never Catch!" Cary Bates
Flash #242 (June 1976): "The Charge of the Electric Gang!" Cary Bates (cameo)
Flash #243–244 (August–September 1976): "If I Can't Rob Central City, Nobody Can!" and "The Last Day of June is the Last Day of Central City!" Cary Bates
Flash #254 (October 1977): "To Believe or Not to Believe!" Cary Bates
Flash #256 (December 1977): "Prisoner of the Past," Cary Bates
Adventure Comics #466 (December 1979): "The Cloud With the Lethal Lining!" Cary Bates
Flash #300 (August 1981): "1981—A Flash Odyssey," Cary Bates (cameo)
Flash #325 (September 1983): "Dead Reckoning," Cary Bates
Flash #326 (October 1983): "Shame in Scarlet!" Cary Bates
Flash #338–342 (October 1984–February 1985): "The Revenge of the Rogues!" "Warday!" "Reach Out and Waste Someone!" "Trial and Tribulation," and "Smash-Up," Cary Bates
Flash #347 (July 1985): "Back from the Dead!" Cary Bates
Flash #349–350 (September–October 1985): "...And the Truth Shall Set Him Free!" and "Flash Flees," Cary Bates
Flash #19 (December 1988): "A Meeting of Rogues," William Messner-Loebs
Secret Origins #41 (June 1989): "A Rogue By Any Other Name," Dan Mishkin and Gary Cohn
Flash Annual 4 (1991): "Family Business" (Armageddon 2001), Mark Waid
Flash Annual 5 (1992): "Run-In" (Eclipso: The Darkness Within), Mark Waid and Craig Boldman
Underworld Unleashed #1 (November 1995), Mark Waid
Flash #125–126 (May–June 1997): "Cause and Effect" and "Trial Run" (Lead-in to Hell To Pay), Mark Waid and Brian Augustyn
Flash #127–129 (July–September 1997): "Hell To Pay," Mark Waid and Brian Augustyn
New Year's Evil: The Rogues (February 1998): "Men & Gods," Brian Augustyn
Flash #139 (July 1998): "The Black Flash Part 1: The Late Wally West," Mark Millar
Flash #175–176 (August–September 2001): Birth Right, Geoff Johns
Flash: Iron Heights (2001), Geoff Johns
Flash #184–188 (May–September 2002): "Crossfire," Geoff Johns
Flash #195 (April 2003): "Off Balance," Geoff Johns (cameo)
Flash #207 (April 2004): "Rush Hour," Geoff Johns
Flash #210 (July 2004): "Reconnected," Geoff Johns
Flash #214, 216 (November 2004–January 2005): "The Secret of Barry Allen" Parts 1 & 3, Geoff Johns (cameo)
Flash #217 (February 2005): "Post-Crisis," Geoff Johns
Flash #218 (March 2005): "Rogue Profile: Heat Wave," Geoff Johns (cameo)
Flash #219 (April 2005): "Truth or Dare, Part 1" Geoff Johns (cameo)
Flash #½ (2005): "Rogue Wars Prologue: Tricksters," Geoff Johns (cameo)
Flash #220–225 (May–October 2005): "Rogue War," Geoff Johns
Flash #227 (December 2005): "Finish Line, Part 1: The Last Days," Joey Cavalieri (dream sequence, cameo)
Countdown #51–50 & #47–46 (May–June 2007) Paul Dini (head writer) with Jimmy Palmiotti, Justin Gray, Tony Bedard, Sean McKeever
The Flash: The Fastest Man Alive #11–13 (June–August 2007): "Full Throttle," Marc Guggenheim
All-Flash #1 (September 2007): "Justice, Like Lightning," Mark Waid
Salvation Run (7-issue miniseries, January–July 2008), Bill Willingham & Matthew Sturges
Final Crisis: Rogues' Revenge (3-issue miniseries, September-November 2008), Geoff Johns
* Since the Weather Wizard's introduction, the story has always been that he found his brother dead and either took the wand, or used his notes to complete it. Beginning in 2001, characters started referring to rumors that he had actually killed his brother to take the wand. This version was confirmed in Flash #220 (May 2005). He has only admitted the truth to Captain Cold, and probably only once.