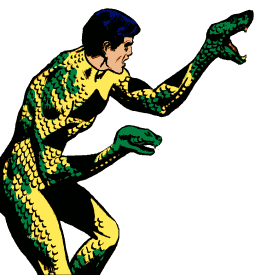 Real Name:
Philip Russell
Known Relatives:
Cynthia Ross or Keel
*
(wife),
Eric Russell
(future descendant)
**
Occupation:
Private Detective
Base of Operations:
San Francisco, California
Hair:
Black
Eyes:
Blue
First Appearance:
Flash v.1 #260
(1978)
---
Private detective Philip Russell had a secret: a second, criminal personality. As the Viper, he wore a snake-themed costume with snake-head gloves. The right hand launched an acid venom, and the left emitted a paralyzing gas. Russell struggled to wipe out the Viper, but failed. On the day he was to be married, he lapsed into a death-like coma. The Viper awoke in the morgue, in full control.
His future descendant Eric Russell had traveled backward in time to visit his daughter Iris and son-in-law Barry (a.k.a. the Flash). Intrigued by records that indicated Philip Russell would be dead that morning, battle the Flash in the afternoon, and marry that evening, Eric went to San Francisco to investigate. He unwittingly led the Flash to the city, ensuring the battle would occur.
Eric knew of future technology which would cure Philip of his illness, but was reluctant to interfere in history. The Flash realized that he had already "interfered"—by leading the Flash to battle the Viper in the first place—and so any further action wouldn't be interfering with history, but part of history. Eric built a makeshift "psycho-healer" and cured Philip. The Flash returned all the money and jewels that the Viper had stolen.
Philip and his fiancée were married on time...and the rest is history.
Text by Kelson Vibber. Do not copy without permission.
---
"The 1000 Year-Old Root!" - Flash (first series) #260 (April 1978), Cary Bates
Flash v.1 #260 (April 1978) - Irv Novick and Joe Giella
Flash #260 (April 1978): "The 1000 Year-Old Root!" Cary Bates
* The newspaper clipping reads "Cynthia Ross becomes Mrs. Philip Russell." But the staff at the morgue call her Miss Keel.
** Paradoxically, Philip and Cynthia Russell are both contemporaries and ancestors of Iris Allen. Of course, this makes them ancestors of Bart Allen as well.