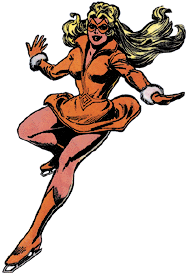 Real Name:
Lisa Snart
Alias:
Lisa Star
Known Relatives:
Leonard Snart
(brother)
Occupation:
Criminal
Former Occupations:
Figure Skater, Bounty Hunter
Group Affiliation:
The Rogues
Base of Operations:
Central City, Missouri
First Appearance:
Flash v.1 #250
(June 1977)
Death:
Frozen by
Chillblaine IV
(
Flash v.2 #113
, May 1996)
---
Seeking to distance herself from her brother's criminal record, Lisa Snart took the stage name Lisa Star for her career as an internationally known figure skater. She couldn't get too far from the Rogues' Gallery; her coach—and subsequently her lover—was Roscoe Dillon, a.k.a. the Top. When the Top died as a result of his efforts to combat the Flash, she swore revenge. Using razor-sharp ice skates that created their own aerial ice and jewel-themed weapons (everything from explosives to force fields and hypnotism), she began a series of attacks designed to drag the Flash through a living hell.

Her revenge put a halt to her ice skating career, but she had an edge that her fellow rogues did not: she discovered that the Flash was Barry Allen. She struck at him several times through his wife Iris, and once through his father (who had been possessed by the spirit of the deceased Top). The Glider's most complex plot involved creating a new super-hero, the Ringmaster, and hypnotizing Iris to leave her husband for his new rival (Flash v.1 #261–264, 1978).
Beyond Revenge
After Barry's death, the Golden Glider hung up her costume. Her purpose had been revenge, and there's not much you can do to a dead man.
Lisa and her brother Len (Captain Cold) went legit for a time and opened "Golden Snowball Recoveries." Using the same costumes and weapons they had employed as criminals, they became bounty hunters for hire (Flash v.2 #27, 1989), and even worked with the new Flash on occasion.
Cold-Hearted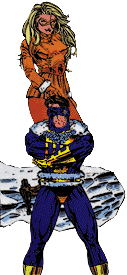 Old habits die hard, and the Golden Glider returned to crime. She developed an almost psychotic distrust of men, but picked a dull-witted hunk to be her new partner and lover; she stole her brother's cold weapons and outfitted him as Chillblaine. Ironically, on their first crime together, she was possessed by Eclipso and killed him (Flash v.2 Annual 5, 1992).
After that disaster, she remained in the background, outfitting other Chillblaines of the same type. The fourth time around, someone genuinely dangerous had caught on to her M.O. He played up to it, took the weapons she offered, then killed her with them (Flash v.2 #113, 1996).
Text by Kelson Vibber. Do not copy without permission.
---
"One Freeze-Dried Flash—Coming Right Up!" - Flash (first series) #250 (June 1977), Cary Bates
"Run-In" - Flash (second series) Annual #5 (1992), Mark Waid and Craig Boldman
Golden Glider: Who's Who (first series) #9 (November 1985) - Irv Novick & Dick Giordano
With Chillblaine: Flash Annual #5 (1992) - Travis Charest and Dan Davis
Who's Who in the DC Universe #9 (November 1985)
The DC Comics Encyclopedia (2004)
Flash #250–251 (June–July 1977): "One Freeze-Dried Flash—Coming Right Up!" and "Vengeance on Ice!" Cary Bates
Flash #257 (January 1978): "The Golden Glider's Triple Play," Cary Bates
Flash #261–264 (May–August 1978): "The Lure of the Ringmaster," "With This Ring... I Thee Master!" "Nobody Stays a Flash Forever!" and "The Golden Glider's Final Fling!" Cary Bates
Flash #300 (August 1981): "1981—A Flash Odyssey," Cary Bates (cameo)
Flash #301–303 (September–November 1981): "...And the Beat Goes Off!" "Lisa Starts With L and That Stands for Lethal," and "The Top is Alive and Well in Henry Allen!" Cary Bates
Flash #314 (October 1982): "Look Upon the Eradicator!" Cary Bates
Flash #19 (December 1988): "A Meeting of Rogues," William Messner-Loebs
Flash #27–28 (June–July 1989): The Porcupine Man Saga (conclusion), William Messner-Loebs
Flash #35 (February 1990): "Behold the Turtle!" William Messner-Loebs (cameo)
Flash Annual 4 (1991): "Family Business" (Armageddon 2001), Mark Waid
Flash Annual 5 (1992): "Run-In" (Eclipso: The Darkness Within), Mark Waid and Craig Boldman
Flash #113 (May 1996): "Race Against Time Chapter 1: Wallyworld," Mark Waid
Flash 80-Page Giant #2 (April 1999): "You Just Never Know," William Messner-Loebs
Flash #182 (March 2002): "Absolute Zero," Geoff Johns (flashback)
Flash #215 (December 2004): "The Secret of Barry Allen, Part Two: Reformed," Geoff Johns (cameo, flashback)