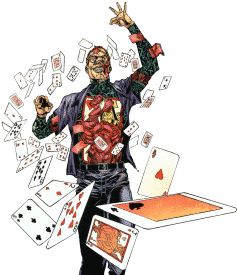 Real Name:
Jeremy Tell
Known Relatives:
none
Former Occupation:
Con man
Base of Operations:
Keystone City, Kansas
First Appearance:
Flash: Iron Heights
(2001)
Created By:
Geoff Johns and Ethan van Sciver
---
"After a losing streak at the Flying Pig Casino, Tell murdered a willing gambler in the parking lot. A deck of cards in the man's jacket flew out at Tell. The cards burrowed into his skin. Becoming his skin" (Flash #210). According to Tell, the cards are cursed. Whatever the reason, he can peel them off and launch them, controlling their movement with his mind. Flat, they can cover anything. Edge-on, they're razor-sharp and deadly.
Text by Kelson Vibber. Do not copy without permission.
---
Flash: Iron Heights (2001) - Ethan van Sciver and Prentis Rollins
Flash: Iron Heights (2001), Geoff Johns
Flash #192 (January 2003): "Run Riot Part 1: Awakened," Geoff Johns
Flash #193 (February 2003): "Run Riot Part 2: On the Run," Geoff Johns
Flash #210 (July 2004): "Reconnected," Geoff Johns
Flash #217 (February 2005): "Post-Crisis," Geoff Johns (cameo)
Flash #222–223 (July–August 2005): "Rogue War, Chapters 3–4," Geoff Johns