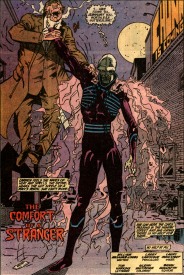 Real Name: Unknown
Known Relatives: Elise (wife, deceased)
Base of Operations: New York City
Hair: Blond
Eyes: Blue
Death: Powers backfired on himself (Flash v.2 #31, October 1989)
First Appearance: Flash v.2 #31, October 1989

---
The man who would become known as the Comforter lived in Gotham City when Deacon Blackfire turned the homeless of Gotham into a mad army. The cult scoured the city until Batman stopped them. (Batman: The Cult, 1988) Savagely beaten, he lost his wife, his home, and all his possessions. The experience left him psychologically scarred, convinced that vagrants were a plague on humanity, and obsessed with the "comfort" of death.
He also manifested metahuman powers, phasing himself from one place to another. Over time he learned he could turn his powers on other people...and phase their molecules out of sync, killing them.
The Turtle, then head of a huge criminal empire in Keystone City, hired the Comforter to kill the Flash before he could leave New York. The mastermind gave him a techno-suit to channel his powers. Still obsessed with his experiences in Gotham, the Comforter began killing the homeless of New York, seeing himself as a cleansing agent of purity.
The Flash, working with the Pied Piper and TV reporter Linda Park, set a trap for him at a homeless shelter. The Comforter arrived and battled the Flash...only to find the Flash's speed interfering with his power. It backfired, killing him instantly.
Text by Kelson Vibber. Do not copy without permission.
---
Flash #31 (October 1989): "The Comfort of a Stranger," William Messner-Loebs
Flash (second series) #31 (October 1989) - Greg LaRocque &amp Larry Mahlstedt
Flash #31 (October 1989): "The Comfort of a Stranger," William Messner-Loebs