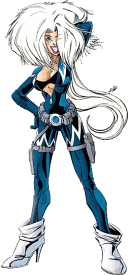 Real Name: Unknown
Other Aliases: Moonshine
Known Relatives: Ms. Barlow (mother), Detective Bramer (father)
Occupation: Thief, mercenary
Base of Operations: mobile
Hair: Platinum Blonde
Eyes: Blue
First Appearance: Impulse #4 (July 1995)

---
White Lightning's parents split up when she was a child. She developed a camaraderie with her mother, and an utter contempt for authority figures: particularly fathers and police. As an adult, she was a thrill-seeker, pulling off spectacular crimes and delighting in making the authorities look incompetent. Anyone who calls her "Princess" (her father's pet name for her) earns her immediate wrath and retribution.
She became a legend, traveling from town to town across the American South with support from her truck driver (and sometime smuggler) mother. White Lightning would announce her intent to arrive in a town on the Internet, then charm local teenage boys into working as her gang for the heist. Attracted by her fame, charisma, and sex appeal, they would be all too happy to help.
Clashes with Impulse
White Lightning's first caper in the Manchester, Alabama area ended in disaster when Impulse infiltrated her gang, but she eluded capture herself (Impulse #4–5, 1995). She later returned, working with the Trickster to successfully steal an artifact from the local university (Impulse #14–15, 1996).
In addition to robbery, White Lightning has also been known to hire out her skills at spreading devastation. Hired to harass witnesses in a toxic dumping case, she relied on a variety of weaponry instead of local help. (Impulse #33, 1998).
She showed a compassionate side when a number of cities were threatened by a flood along the Warrior River. Max Mercury called on regional super-villains to help hold back the waters, and White Lightning actually saved Impulse's life when he nearly drowned (Impulse #38, 1998).
Eventually, her mother was arrested for transporting stolen goods across state lines. She attempted to charm the court into releasing her, demonstrating that she has the superhuman ability to "nudge" men into obeying her will. Her father, immune to her abilities, talked them out of it. She then attempted to steal the money for her mother's bail, and was apprehended in the process (Impulse #76–80, 2001).
White Lightning's current status is unknown.
Text by Kelson Vibber. Do not copy without permission.
---
Impulse #80 (January 2002) - Carlo Barberi & Wayne Faucher (Thanks to Eduardo Robles for scanning and cleaning the image.)
Impulse #4–5 (July–August 1995): "Bad Influence" and "Lightning Strikes," Mark Waid
Impulse #14–15 (June–July 1996): "Faith" and "Trust," Mark Waid
Impulse #33 (January 1998): "Time Out," William Messner-Loebs
Impulse #38 (June 1998): "Rising Waters," William Messner-Loebs
Impulse #65 (October 2000): Mercury Falling Part 4: "Bart Allen's Evil Twin," Todd Dezago (cameo)
Impulse #76 (September 2001): "Missing You,"Todd Dezago
Impulse #78 (November 2001): "Losing the Impulse," Todd Dezago
Impulse #80 (January 2002): "Sometimes a Hero," Todd Dezago
In her early appearances, White Lightning did not appear to have super-powers. She simply took advantage of those who were most likely to be impressed by her looks, fame and adventuring. It wasn't until Impulse #76 that her "charm" was established as anything superhuman.