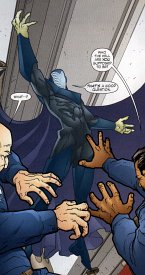 Real Name:
Auerbach
Base of Operations:
Keystone City, Kansas
Occupation:
Media Mogul
Eyes:
Blue?
Hair:
Brown
First Appearance:
The Flash v.2 #238
, May 2008
---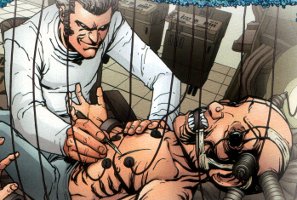 Edwar Martinez had the ability to absorb and broadcast emotions. He was smuggled into America, where a sadistic doctor performed surgery on him and hooked him up to machines so that he could control Martinez' abilities. In order to survive, Martinez absorbed the doctor's cruelty until he could no longer hold it in, and a wave of 1,000 murders struck the town. Police arrested the doctor and rescued Martinez, but he was soon found by a reporter for Keystone News named Auerbach.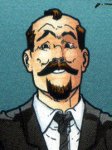 Auerbach tracked down the doctor's equipment and used Martinez in a scheme to build a media empire. He would emotionally broadcast fear to his viewers, making them dependent on his media broadcasts. Even as he built up Keystone News, Auerbach wasn't satisfied. Now able to make fears into reality, he created a television-inspired costume (his faceplate was a screen), called himself Spin, and embarked on a robbery spree.
When Spin came into conflict with the Flash, he used his powers and network to turn Keystone City against the hero. He brought Grodd to the city to deliver the final blow, but instead found himself battling the psychic gorilla. Spin was no match for Grodd's more powerful mind and was quickly defeated.
Martinez was forcibly disconnected from the machines in the battle, and died from the physical shock. His last moments were surrounded by the Flash's compassion, which he used to calm Keystone's population.
Text by Kelson Vibber. Do not copy without permission.
---
Flash #242 (September 2008): "Fast Money Part 5: A Day in the Life," Tom Peyer
Spin - Flash (second series) #238 (May 2008) - Freddie Williams II
Edwar and the Doctor - Flash (second series) #242 (September 2008) - Freddie Williams II
Auerbach - Flash (second series) #238 (May 2008) - Freddie Williams II
Flash #238–242 (May–September 2008): "Fast Money Parts 1–5," Tom Peyer