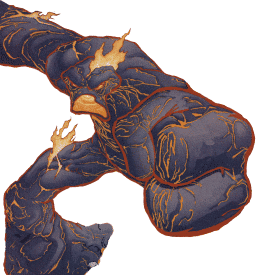 Real Name:
Joey Monteleone
Known Relatives:
Jack Monteleone (older brother)
Occupation:
Criminal
Base of Operations:
Keystone City, Kansas
First Appearance:
Flash #174
, July 2001
Created By:
Geoff Johns and Scott Kolins
---
Joey Monteleone, younger brother of Keystone City drug lord Jack "The Candyman" Monteleone, was uninterested in the family "business." Turning instead to petty crime, he landed in Iron Heights. After waiting six months for his brother to break him out, he began meditating and discovered he could project his consciousness into inanimate objects.
After several "joyrides," he entered a vat of hot tar and went on a rampage at a Keystone Combines hockey game. He fought first the hockey players, then the Flash, and discovered that he was (appropriately) trapped in the tar form.
Tar Pit's original body remains incarcerated, comatose, in Iron Heights. His molten form escaped when a riot broke out, and his current whereabouts are unknown.
Text by Kelson Vibber. Do not copy without permission.
---
The Flash (second series) #174 (July 2001) - Scott Kolins and Doug Hazlewood
Flash Secret Files #3 (November 2001)
The DC Comics Encyclopedia (2004)
Flash #174 (July 2001): "Moving Right Along," Geoff Johns
Flash #192 (January 2003): "Run Riot Part 1: Awakened," Geoff Johns
Flash #193 (February 2003): "Run Riot Part 2: On the Run," Geoff Johns
Flash #207–208 (April–May 2004): "Rush Hour" and "The Red Carpet," Geoff Johns
Flash #217 (February 2005): "Post-Crisis," Geoff Johns (cameo)
Flash #222–223 (July–August 2005): "Rogue War, Chapters 3–4," Geoff Johns