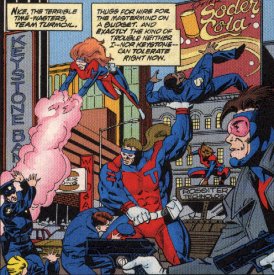 Members:
Caliber, Rumble, Miasma, Wildside
Occupation:
Mercenaries
Base of Operations:
Keystone City, Kansas
First Appearance:
Flash v.2 #86
(January 1994)
---
A quartet of super-powered mercenaries based in Keystone: Rumble is a giant. Miasma can fly and launch poison gas. Caliber is the team's gunman. Wildside is a catlike woman with razor-sharp claws. The team is something of a joke, once described as "Thugs for hire for the mastermind on a budget." When last seen they had picked up giant robot suits... and they still couldn't last more than about four pages.
(Basically, if Mark Waid needed generic villains as a plot device, rather than a story, he used Team Turmoil.)
Text by Kelson Vibber. Do not copy without permission.
---
Flash (second series) #122 (February 1997) - Paul Ryan & John Nyberg
Flash #86 (January 1994): "Rival Forces," Mark Waid
Flash #0 (October 1994): "Flashing Back," Mark Waid
Flash #122 (February 1997): "Running Away From Home," Mark Waid and Brian Augustyn
Flash #145 (February 1999): "Chain Lightning Chapter 1: The Gathering Storm," Mark Waid and Brian Augustyn