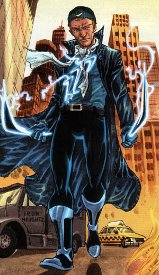 Real Name:
George "Digger" Harkness
Known Relatives:
W.W. "Walt" Wiggins
or "Aussie" Green (father)
*
, Betty Harkness (mother, deceased), Ian Harkness (stepfather)
*
, Tom Harkness(half-brother),
Owen Mercer
(son)
Occupation:
Criminal
Group Affiliation:
The Rogues
Past Group Affiliation:
Suicide Squad, Secret Society of Super Villains
Base of Operations:
Central City, Missouri
Hair:
Brown
Eyes:
Brown
First Appearance:
Flash (first series) #117
(December 1960)
Death:
Shot while carrying out a contract hit (
Identity Crisis #5
, 2004)
Resurrection:
Blackest Night #8
(2010)
Created By:
John Broome and Carmine Infantino
See Also:
Captain Boomerang II
---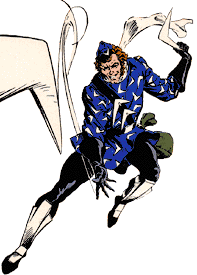 Illegitimate son of American toymaker W.W. Wiggins*, Australian-born George Harkness was a troubled teenager always getting into scrapes with the law. His presumed father had always resented him because of his mother's affair with Wiggins, and after one of George's capers led to a particularly nasty family fight, his mother sent him to the United States, arranging with Wiggins to give him a job in Central City. "Captain Boomerang" was created as a promotional gimmick for Wiggins' toy company.
One day, after a particularly lousy performance, Boomerang tried to pick someone's pocket. He was spotted by the Flash, but Digger threw a boomerang at him and flattened him. Realizing what he could do, he began a criminal career as Captain Boomerang, using both regular and gimmicked boomerangs for ever more spectacular crimes.
Suicide Squad
For a time, Boomerang worked with the Suicide Squad, a secret government organization employing convicted super-villains for extremely hazardous missions. Rebellious and insubordinate, he was never a model team member, and even briefly borrowed Mirror Master's costume to continue his criminal career in secret. During this time on the Squad he returned home briefly and learned that Wiggins was his real father.
Hell and Back
Disgusted with his life, he jumped when Abra Kadabra brought him and four other Rogues an offer that would bring them respect. Kadabra did not tell them that their fame would cost their lives. Their deaths unleashed the demon Neron upon Earth (Underworld Unleashed #1, 1995). Neron continued to use him after his death, sending the Rogues' bodies to Earth without their souls. With vastly enhanced powers and even more powerful avatars, they killed thousands before the Flash forced Neron to halt the destruction and return the Rogues' souls to their bodies (Flash #127–129, "Hell to Pay," 1997).
Captain Boomerang, like his fellow Rogues, returned to his life of crime, though for a time he was concerned with protecting himself from Neron. His experience in Hell did not seem to change him much, but near-fatal injuries at the hands of the Dark Flash (Flash Secret Files #2, 1999) embittered him. He declared revenge on the latest super-speedster, and created the living weapon Replicant. Only his exposure to Joker venom healed him (Flash #179, 2001), and even then he disappeared from public view.
Family
Early in his criminal career, Harkness was stranded in the distant future where he met Meloni Thawne ("Rogue War"). The nature of their relationship has not been revealed, nor has his return to the present day, but he brought their son Owen back with him and gave the child up for adoption.
Years later, while attempting a comeback, Boomerang also tracked down his long-lost son. Shortly after they began reconnecting, he took a job to kill Jack Drake. At this time, several heroes' loved ones had been killed or attacked. Drake was warned, and given a loaded gun just as Boomerang arrived at his apartment. As Harkness burst through the door, the two men killed each other (Identity Crisis #5, 2004).
Return
Captain Boomerang's corpse was animated by a Black Lantern ring during the Blackest Night. It convinced Owen that he could be brought back if he only ate enough people. In the end, the Rogues found out what they had been doing, and tossed Owen into the pit, where the Black Lantern boomerang ripped his heart out. (Blackest Night: The Flash, 2010)
Digger himself was brought back to life by the power of the white light, physically back in his prime (Blackest Night #8, 2010). His experience left him with an unexpected bonus: he can now create exploding boomerangs as Black Lantern constructs.
---
Modern: The Flash (third series) #3 (August 2010) - Francis Manapul
Classic: Who's Who (loose-leaf edition) #2 (September 1990) - Geof Isherwood
Black Lantern: Blackest Night: The Flash #2 (March 2010) - Scott Kolins
White Lantern: The Flash (third series) #5 (2010) - Ryan Sook (Note: Harkness has not appeared as a white lantern in-story, only on this symbolic cover.)
Suicide Squad #44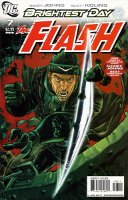 Suicide Squad #44 (August 1990): "Grave Matters" John Ostrander and David M. deVries
Flash (third series) #7: "What Goes Around, Comes Around," Geoff Johns (December 2010)
Who's Who in the DC Universe #4 (June 1985)
Who's Who (loose-leaf edition) #2 (September 1990)
The DC Comics Encyclopedia (2004)
The Flash Companion (2008)
Flash Secret Files and Origins 2010 (May 2010)
Flash #117 (December 1960): "Here Comes Captain Boomerang!" John Broome
Flash #124 (November 1961): "Space Boomerang Trap!" John Broome

(Impersonated)

Flash #130 (August 1962): "Who Doomed the Flash?" John Broome
Flash #148 (November 1964): "The Day Flash Went Into Orbit!" John Broome
Flash #155 (September 1965): "The Gauntlet of Super-Villains," John Broome
Flash #174 (November 1967): "Stupendous Triumph of the Six Super-Villains," John Broome
Flash #209 (September 1971): "Beyond the Speed of Life!" Cary Bates
Flash #227 (June 1974): "Flash—This Is Your Death!" Cary Bates
Flash #243–244 (August–September 1976): "If I Can't Rob Central City, Nobody Can!" and "The Last Day of June is the Last Day of Central City!" Cary Bates
Flash #278 (October 1979): "Road to Oblivion!" Cary Bates
Flash #300 (August 1981): "1981—A Flash Odyssey," Cary Bates (cameo)
Flash #310 (June 1982): "Colonel Computron Strikes Back—With a Vengeance," Cary Bates
Flash #311 (July 1982): "Captives of the Boom-Boom-Boomerang!" Cary Bates
Flash #325 (September 1983): "Dead Reckoning," Cary Bates
Flash #337 (September 1984): "Beware the Speed-Demons!" Cary Bates (boomerang only)
Flash #338–342 (October 1984–February 1985): "The Revenge of the Rogues!" "Warday!" "Reach Out and Waste Someone!" "Trial and Tribulation," and "Smash-Up," Cary Bates
Flash #349–350 (September–October 1985): "...And the Truth Shall Set Him Free!" and "Flash Flees," Cary Bates
Flash #19 (December 1988): "A Meeting of Rogues," William Messner-Loebs
Secret Origins #41 (June 1989): "A Rogue By Any Other Name," Dan Mishkin and Gary Cohn
Flash Annual 5 (1992): "Run-In" (Eclipso: The Darkness Within), Mark Waid and Craig Boldman
Underworld Unleashed #1 (November 1995), Mark Waid
Flash #125–126 (May–June 1997): "Cause and Effect" and "Trial Run," Mark Waid and Brian Augustyn
Flash #127–129 (July–September 1997): "Hell To Pay," Mark Waid and Brian Augustyn
Flash #134 (February 1998): "Still Life In The Fast Lane," Grant Morrison and Mark Millar (cameo)
New Year's Evil: The Rogues (February 1998): "Men & Gods," Brian Augustyn
Flash 80-Page Giant #1 (August 1998): "The Professional," Christopher Priest
Legends of the DC Universe #16–17 (May–June 1999): "Dark Matters" Parts 2–3, Michael Jan Friedman
Robin #62–64 (March–May 1999): "Faster than Anything," "The Blink of an Eye," "Stop Me If You've Heard This One," Chuck Dixon
Flash Secret Files #2 (November 1999): "Twenty-First Century Rogue," Mark Waid and Brian Augustyn
Flash #179 (December 2001): "Smile for the Camera," Geoff Johns
Flash #213 (October 2004): "Slow Motion," Geoff Johns (cameo)
Identity Crisis #2–6 (September 2004–January 2005), Brad Meltzer
Flash #215 (December 2004): "The Secret of Barry Allen, Part Two: Reformed," Geoff Johns (cameo)
Flash #217 (February 2005): "Post-Crisis," Geoff Johns (body)
Flash #218 (March 2005): "Rogue Profile: Heat Wave," Geoff Johns (cameo)
Flash #220–222 (May–July 2005): "Rogue War, Chapters 1–3," Geoff Johns
Flash #224 (September 2005): "Rogue War, Chapter 5," Geoff Johns (cameo)
Suicide Squad (1987–1992)
* Originally, W.W. Wiggins and Digger Harkness were not related. Harkness had simply arrived in Central City shortly before Wiggins prepared the boomerang promotion. In Flash #227 (1974), Captain Boomerang's father is introduced as petty crook "Aussie" Green. Digger gets along well with his father, who encourages his son and even keeps a scrapbook of his exploits. (Thanks to Omar Karindu for reminding me of this story.)
The 1980s Suicide Squad, which featured Captain Boomerang as a regular, changed his backstory to make Wiggins his illegitimate father. Boomerang's origin is retold in Suicide Squad #44 (1990).
For another villain with a connection to Wiggins, see Colonel Computron.