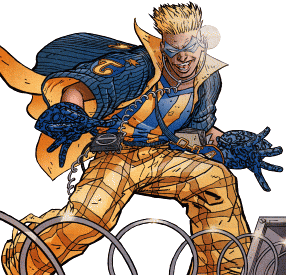 ---
When Axel Walker's parents divorced, his father told him, "There's two things you can be in life. Either you're the trickster, or you're the one gettin' tricked." Axel took the lesson to heart. The way he sees it, even heroes are just trying to trick people into adoring them, and his goal is to take them down a notch.
After dropping out of high school and into crime, Axel decided to get in with the Rogues. He broke into the original Trickster's storage unit and stole a costume and equipment, including his air-walking shoes. Within a day he had managed to steal or wipe out files from both Union Commissioner Keith Kenyon and FBI Profiler Hunter Zolomon, tangled with the Flash and escaped. The older members of the Rogues saw him at first as a mascot, but Blacksmith recognized he had potential.
Despite his inexperience, he proved himself quickly, and was rescued from the Network's collapse along with the other classic Rogues. Even his allies found him annoying, but they couldn't deny his "skillz."
During a battle with other Rogues in Central City, the original Trickster confronted the kid he considered an imitator, took back his gadgets, and threatened to attack him if he ever called himself the Trickster or wore the costume again (Flash #222, 2005). Axel's career appears to be over for now.
Text by Kelson Vibber. Do not copy without permission.
---
Flash (second series) #183 (April 2002) - Scott Kolins & Doug Hazlewood
The DC Comics Encyclopedia (2004)
Flash Secret Files and Origins 2010 (May 2010)
Flash #183 (April 2002): "Crossfire Prologue: Tricked," Geoff Johns
Flash #184–188 (April–September 2002): "Crossfire," Geoff Johns
Flash #195 (April 2003): "Off Balance," Geoff Johns (cameo)
Flash #207–208 (April–May 2004): "Rush Hour" and "The Red Carpet," Geoff Johns
Flash #214 (November 2004): "The Secret of Barry Allen, Part One," Geoff Johns (cameo)
Flash #216 (January 2005): "The Secret of Barry Allen, Part Three: Spinning," Geoff Johns (cameo)
Flash #217 (February 2005): "Post-Crisis," Geoff Johns
Flash #½ (2005): "Rogue Wars Prologue: Tricksters," Geoff Johns
Flash #220–222 (May–July 2005): "Rogue War, Chapters 1–3," Geoff Johns
Final Crisis: Rogues' Revenge (3-issue miniseries, September-November 2008), Geoff Johns