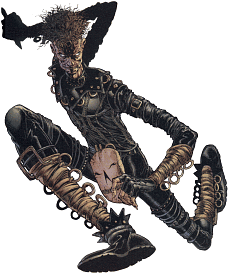 Real Name:
Dr. Michael Christian Amar
Known Relatives:
none
Former Occupation:
Surgeon
Base of Operations:
Keystone City, Kansas
Past Group Affiliation:
Blacksmith's Rogues
First Appearance:
Flash: Iron Heights
(2001)
Created By:
Geoff Johns and Ethan van Sciver
---
Nine years ago, respected surgeon Michael Amar went mad and began a killing spree to "stop the voices." He cut a swath of terror through Central and Keystone cities until he was captured by Fred Chyre and Joe Jackam. Convicted in part by evidence uncovered by police scientist Barry Allen and partly on his own uncontrollable outbursts, Amar—or "Murmur" as he had become known—was sentenced to death.
Due to his abnormal blood, it wasn't clear that a lethal injection would actually kill him, and Murmur spent the next nine years in Iron Heights. While there, he cut out his own tongue and sewed his mouth shut to make sure he would never incriminate himself again. Even before the prison's restructuring he was isolated even from the other prisoners.
Murmur was eventually contacted by Blacksmith, who arranged for an outbreak of an anthrax variant in the prison. The virus killed a number of guards and "topside" prisoners before the Flash realized Amar's blood was the key to a cure. Murmur was among the prisoners who escaped in the commotion, and he joined the new Rogues Gallery. They kept his homicidal tendencies mostly in check...except when they needed a distraction.
Since that group of Rogues dissolved, Murmur has been on his own.
Text by Kelson Vibber. Do not copy without permission.
---
Flash: Iron Heights (2001), Geoff Johns
Flash: Iron Heights (2001) - Ethan van Sciver and Prentis Rollins
Flash Secret Files #3 under The Rogues (November 2001)
The DC Comics Encyclopedia (2004)
Flash: Iron Heights (2001), Geoff Johns
Flash Secret Files #3 (November 2001): "Rogues," Geoff Johns
Flash #184–188 (May–September 2002): "Crossfire," Geoff Johns
Flash #192–193 (January–February 2003): "Run Riot" Parts 1–2, Geoff Johns
Flash #217 (February 2005): "Post-Crisis," Geoff Johns (cameo)
Flash #218 (March 2005): "Rogue Profile: Heat Wave," Geoff Johns
Flash #222–223 (July–August 2005): "Rogue War, Chapters 3–4," Geoff Johns