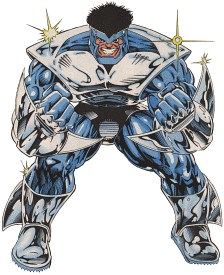 Real Name:
Unknown
Occupation:
Mercenary
Base of Operations:
Keystone City, Kansas
First Appearance:
Flash #84
, November 1993
---
Mercenary who, in his own words, "you hire to tear a place down to the ground." Razer's armor is made of a nearly frictionless chemical polymer called Lubrilon and is covered with razor-sharp blades. (Those blades are the only places you can grab hold of him.) He also possesses enhanced strength and carries launchable blades that will cut through nearly anything.
Razer battled the Flash as part of a real estate blackmail scam. He nearly destroyed a shopping mall, though the Flash got almost everyone out. (The remaining victim later sued the Flash for negligence.) Razer later escaped and began working for Data Highways, Inc. He was captured by Argus while threatening a city councilman. He has not been seen since.
Text by Kelson Vibber. Do not copy without permission.
---
Flash (second series) #84 (November 1993) - Barry Kitson & Ian Aiken
Flash #84–85 (November–December 1993): "Cutting Edge" and "Cut and Run," Mark Waid
Argus #1 (April 1995): "Light In Dark Part One: God of Vengeance," Mark Wheatley and Allan Gross